Hardboiled and Noir List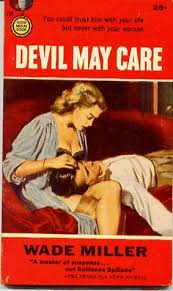 A few posts ago I mentioned my friend Chris Hocking had provided me with an amazing list of hardboiled and noir fiction. Hocking gave me the titles of the books he thought I'd most enjoy, the crème de la crème of the hardboiled and noir books he's read over the last three and a half decades. It's an extremely generous gift. Think of it this way: I'd have had to read for more than thirty years in the genre to find these on my own! With his permission, I'm now sharing it with you.
Before you dig in, understand that this list is idiosyncratic: it's like a mix tape made for me by someone who not only understood my own preferences in literature but happened to have extremely similar tastes.
It's not going to be ideal for every reader out there. For instance, Chris had recommended The Killer Inside Me and while I couldn't put it down I wasn't sure I ever wanted to read anything quite like it again, so he added a lesser-known Jim Thompson novel that's not as unsettling to the list. It turns out I'm more a fan of hardboiled fiction than straight up noir, possibly because there are actual heroes in hardboiled fiction, even if they're flawed and world-weary.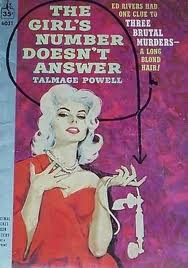 One last thing. I don't want to devote a whole lot of discussion to what's not on the list, but I do want to say a little because inevitably someone will drop by and ask why so-and-so isn't here.
As I grew more familiar with the genre, I'd ask Hocking about authors who didn't make the list. In the case of one writer who's well-regarded in some quarters, he said: "I read one by him, then one by Talmage Powell. Then I tried another by him, and then three by Talmage Powell. Powell kicked his butt." Talmage Powell is equally obscure, you see, but appealed more to Hocking. Certainly Powell's books work for me.
If you're already well-read in these genres you'll notice some famous writers who didn't make the list, possibly because they're a little too groovy, or not as hard-edged, or possibly because Hocking himself hasn't gotten to their best work and didn't think their early stuff good enough to make this cut. Anyway, I hope to keep discussion to what's ON it and why it's good.
Over the coming months Chris and I will tell you what we thought of these books, and where to find them. Some were meant as introductions to the author's body of work; others are their only work in the genre, and some are simply their best books. As we work through the books/authors, dragging your cursor over entries in the list below and clicking will take you to the essay about each.
Novels
Lawrence Block: Such Men Are Dangerous
Howard Browne: Halo in Blood, Halo for Satan, Halo in Brass, A Taste of Ashes, Thin Air
Raymond Chandler: Farewell, My Lovely, The Long Goodbye, etc.
Max Allan Collins: Quarry, etc.
James Crumley: The Last Good Kiss
Norbert Davis: The Mouse in the Mountain
Barry Fantoni: Mike Dime, Stick Man
Richard Hallas: You Play the Black & the Red Comes Up
Dashiell Hammett: Red Harvest, the Maltese Falcon, The Thin Man, etc.
Richard Latimer: The Lady in the Morgue, Solomon's Vineyard
Dan J. Marlowe: The Name of the Game is Death
Thomas Maxwell: Kiss Me Once, The Saberdene Variations
Wade Miller: Devil May Care, Guilty Bystander, etc.
Frederick Nebel: The Complete Casebook of Cardigan
Talmage Powell: With a Madman Behind Me, The Girls' Number Doesn't Answer, The Killer is Mine
Mickey Spillane: One Lonely Night, I, the Jury
Richard Stark (Donald Westlake): The Parker Series (The Hunter, etc.)
Jim Thompson: After Dark, My Sweet
Charles Williams: Man on the Run
Harry Whittington: Forgive Me, Killer (aka Brute in Brass)
Anthologies and Non-Fiction
Geoffrey O'Brien: Hardboiled America (non-fiction)
Bill Pronzini (ed): The Mammoth Book of Private Eye Stories, 1001 Midnights (non-fiction), Hard-Boiled
Herbert Ruhm (ed): The Hard-Boiled Detective
Robert Weinberg, Stefan Dziemianowicz, Martin Greenberg (ed): Hard-Boiled Detectives, Tough Guys, & Dangerous Dames