Hardboiled Monday: The Mammoth Book of Private Eye Stories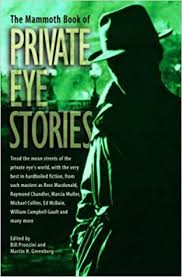 When Chris Hocking and I set out to talk hardboiled fiction every Monday it turned out we (or maybe it was just me) were a little too ambitious. It was hard to keep up the steam, and to keep reading NOTHING but hardboiled for months and months. But we're returning to discuss great hardboiled fiction as an occasional feature of this web site.
Originally we were discussing all books from this list in order. From here on out we'll be skipping around. We'll be trying to cover one subject a month, and I'll also be trying to provide advanced notice. If you want to see our previous hardboiled discussions, you can access the master list here. Today we're discussing the well-named Mammoth Book of Private Eye Stories.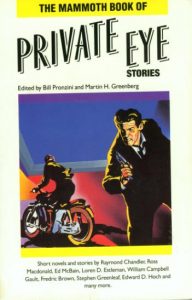 Howard: I had no idea when you recommended this anthology just how good it would be. I mean, you said it was a landmark collection, but I'd read enough anthologies over the years I thought I knew what that meant.  
I didn't, though. This one is stuffed full of the terrific. And those few stories that aren't terrific are still really good. In fact, there are really only two  out of twenty-six stories in here I didn't like — and one of those is by one of my favorite authors (Chandler, who's represented here by "The Wrong Pigeon" probably because it was short and rarely anthologized — don't use it to judge Chandler if you've never read him before). 
Chris: Yeah, The Mammoth Book of Private Eye Stories is a broad but well-balanced survey of detective fiction that does a good job of both tracing the genre from its pulp origins up until when the anthology was published (1988), and showcasing a number of rarely seen and excellent examples of the form. 
Perhaps because of when it was published, there is a greater emphasis on authors of the '70s and '80s than is seen in most private eye collections.  While I might wish for a bit more pulp, this offers a basically unparalleled opportunity to sample the work of several excellent authors whose work, despite being of relatively recent vintage, has become increasingly difficult to find.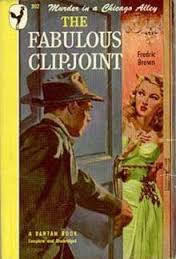 Howard: It's an impressive collection. It may be the single-best multi-author anthology I've ever read. And that's saying something, folks.
The first tale that really stood out was Frederic Brown's "Before She Kills," about a man who's fairly certain that his wife wants to kill him and hires the detective team of Ed and Am Hunter to protect him. Of course, there's much more involved in the tale, and to detail it would spoil all the surprises, a real problem, I'm discovering, as I try writing about any of these short stories. Suffice to say that I liked this one well enough that I immediately broke out Frederic Brown's first novel of Ed and Am Hunter, The Fabulous Clipjoint, and quite enjoyed it.
One of the things that this particular anthology does is put you on the trail of reading more by the writers you really like.
Chris: Yeah, it's a great portal into the work of a lot of fine authors.  Some of them unjustly forgotten. 
Howard: Right after Brown, of course, comes Browne, Howard Browne, and if I wasn't already a huge fan of his Paul Pine detective work, after reading "So Dark for April" I'd have immediately sought out more by him. He turns up the Chandler vibe and pulls it off completely without ever sounding like a pale imitation. Great mystery, well told, with beautiful prose.
Chris: This one has been anthologized a number of times and stands up to multiple re-readings.  This is the author's only short story about his detective character and it's as good as you would hope.  Seems a shame he didn't write more short stories, but since he gave us A Taste of Ashes I don't feel like I can complain about anything the guy might, or might not, have written.   
Howard: Absolutely. Browne to Chandler is a little like a Beatles cover band that wrote a song at least as good as "Hey Jude" or some other classic, but that no one ever listened to…
I could discuss nearly every story in this book with glowing terms. As I said, even the few weaker ones have moments of excellence, but most are good. But I'm keeping to the really great ones, and the next one that really stood out for me was Joseph Hansen's "Surf."
Chris: You don't hear much about Hansen anymore.  Seems as if he gets mentioned it's as the guy who wrote about a gay private eye/insurance investigator well before that was a common, or even widely accepted, possibility.  Seems a shame, as the protagonist's queer nature is an honest, but generally casual, aspect of the work and his stories are intense, well-characterized and righteous.      
Howard: It's a fine mystery, and on finishing it I immediately looked Hansen up and discovered it's possible to order complete e-collections of all his novel work. I anticipate doing that in the coming year.
Following on that was Edward Hoch's "The Other Eye," so well-wrought and so surprising that I really want to read more of his work. I hear he's famous for "locked room" mysteries, although that broadly means mysteries that seem impossible to solve but have a perfectly rational explanation once it all works out. Like the one in this collection. I'm very interested in seeing how some of his other mysteries DO work out.
Chris: Hoch is an author I know primarily by reputation, which is that of the wizard of a thousand tight little mystery plots.  He has a few series characters and one, Simon Ark, sounds irresistible.
Howard: Your mention of Simon Ark was so tantalizing that I just went and looked up an entry about the character – now I want to read some of those stories!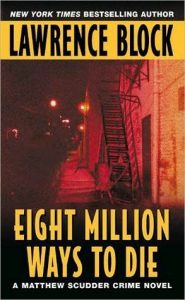 My next discovery was Lawrence Block's "Out of the Window." At first I was missing the settings of the previous private eye stories — the '30s and so on — but the mystery was so good and the writing so masterful that I got swept along anyway. I'd already been meaning to read more of Block after enjoying Such Men Are Dangerous, but now I've got to read the novels of the character featured in this story, Matt Scudder.
Chris: This is one of my favorites in the collection.  The plot is so easily and casually presented that it doesn't even feel like a plot.  You look back on the story and it's a fine mechanism, but you have to stop and look to see it.  Masterful. 
I've been working my way through the Scudder novels over the past few years, and they are distinctive and powerful. Eight Million Ways to Die is one of the best detective novels I've read in years, coupling a dizzying mystery with the hero's desperate battle with alcoholism in a fashion that left me almost physically exhausted at the book's close.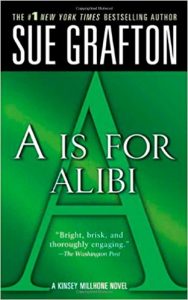 Howard: Sue Grafton's "She Didn't Come Home" was a real surprise for me, and a further reminder never to trust a book by its cover. I was really fond of the narrator and the story was impressively delivered — great mystery, tight prose. I definitely wanted to read more by the writer and preferably about the character, and then discovered that the author's the creator of those books I always rolled my eyes at when I saw them in the bookstores. I thought of them as the alphabet mysteries. A is for Alibi, etc. If only I hadn't been so judgmental I might have been reading some great fiction years earlier. Live and learn…
Stephen Greenleaf's "Iris" was a powerful story and a haunting one. I'm tempted to read more by Greenleaf but wow, I'd be afraid that they'd all be along these lines, in which case I might have to be counseled for depression after reading them…
Chris: Greenleaf is another author whose work I need to explore.  I picked up a handful of his books back when I first discovered detective/hardboiled fiction and they have sat patiently on my shelves awaiting my attention for years.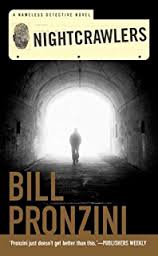 Howard: Bill Pronzini's "Skeleton Rattle your Mouldy Leg" impressed me so much that I sought out some by him immediately — although that shouldn't be taken to mean that I chose him over some of these others, because I read stories out of order and got to Pronzini first. He has a slew of collections featuring the nameless detective who narrates his stories, and many novels as well.
Chris: I love Pronzini's Nameless Detective series.  Solid, well-conceived mysteries with a protagonist who, after a few books, becomes like an old friend.  I know some who find the books a bit too low key, but the emotional, honest character of the narrator (who collects and draws inspiration from classic detective pulp magazines) is unique and companionable.  
Howard: Arthur Lyons' "Trouble in Paradise" surprised me a lot and was a pleasant change from some of the darker tales I'd been reading in the back half of this collection. Not that it wasn't dark in some ways, but it wasn't steeped in bleakness. I definitely plan on seeking out more by him.
Chris: Like Greenleaf, I have a few of this author's books, but have only read a couple.  Need to get back to them.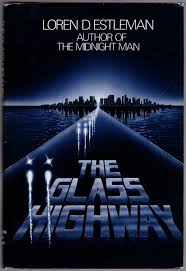 Howard: Loren Estleman's "Greektown" was well composed, atmospheric, surprising, moving, and short as well, a fine capper  to the collection.
Chris: I can hardly say enough good things about Loren Estleman, whose Amos Walker series channels the classic flavor of the Chandleresque detective story better than anyone working today.  The Glass Highway in particular is a fine novel.  He turned in great work for Detroit Noir, giving us the memorable short story, "Kill the Cat," which was up for a Shamus Award.
Howard: Well, I definitely plan to read more by him, and more by all of the writers in this discussion, and probably some that didn't make it onto my "best of" list from what's really a "best of" collection. It's just a wonderful anthology, and if you have even a faint interest in private eye stories, you owe it to yourself to pick up a copy.
Next time up we'll be discussing Wade Miller, and after that, Talmage Powell. See you in about a month!