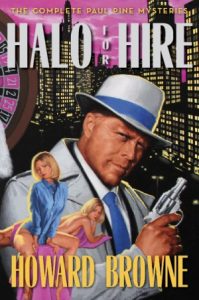 I'm still working on a lengthy convention post about Windy City. I don't honestly know how interested people are in reading convention reports, but I always figure that if you're not there it's interesting to see what they're like. Let me know if I'm wrong.
Of all the treasures I picked up, the one that called to me first was Halo for Hire, which I picked up from Stephen Haffner of Haffner Press. As I mentioned last time, it collects all four novels featuring Paul Pine, along with a short story and a novella. I know there was some speculation about who the cover had been modeled off of the last time I mentioned the book, but that's NOT Bruce Willis. That is, in fact, Trond Flagstad, the husband of the author Howard Browne's daughter. He makes a pretty cool looking private eye, doesn't he?
I like Browne's writing so well that rather than starting with the book in the collection I haven't read I just began at page one.
Like all Haffner Press books, it's a beaut. The spine is lettered and so is the front of the hardback beneath the dust jacket, and the paper quality and binding is top notch. It's not the kind of book you sit down with to read in one hand while you munch your sandwich. You want to settle into an easy chair for this one.
And if you like a good mystery and good writing, you really owe it to yourself to check it out. The fourth novel in the collection, The Taste of Ashes may actually out-Chandler Chandler. Same writing style, elegantly polished, without any Chandler plot issues or digressions. The others I've read are quite strong as well, but The Taste of Ashes is a bonafide masterpiece. It's about time it got the deluxe treatment it deserved. Thanks, mighty Haffner!