Word Count Musings & Hardboiled Thoughts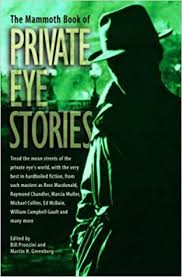 As I've only just now finished the final story in The Mammoth Book of Private Eye Stories, I'm moving the official discussion of it out another week so that we'll be talking about it on Monday, May 15. Given the size of the book, maybe that's a good thing for those of you who're interested in hearing what we have to say about it and the even smaller number of you who might be trying to read along.
Writing's been slow but steady this week, a combination of revision and writing from scratch. I'm not sure how many words per day it officially is and I'm mostly beyond caring. I guess my opinion on word count per day or even week has changed. It's good to measure yourself against some kind of scale to see how much progress you're making, but last year I wrote a lot that ended up having to be changed. Now I'm going slower as I revise the new book, hoping that I won't have to revise each chapter eight times. Instead I'm trying to punch up a chapter until it sounds pretty good, advance into the next one, then come back and punch up that first chapter some more, etc. Hopefully by the time any of the chapters get to my alpha and beta readers they'll find a lot less to worry about.
Looking forward to seeing my first-born again as he comes home from college today for the summer. Looking forward to some gaming over the weekend. Looking forward to it stopping raining, eventually…