About the Author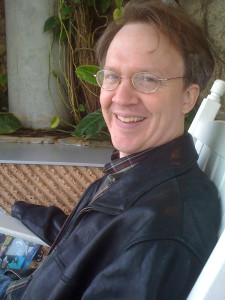 I am represented by the talented Bob Mecoy of the Bob Mecoy Literary Agency.
If you want to drop me a note, I can be reached at joneshoward (at) twc.com. Depending upon how close I am to deadline, some responses will be faster than others, although I'm unlikely to be interested in wiring money to Nigeria or taking you up on your low cost prescription drug offers at any time.
Here followeth the official biography thus far, in brief:
Howard Jones's debut historical fantasy novel, The Desert of Souls (Thomas Dunne Books 2011), was widely acclaimed by influential publications like Library Journal, Kirkus, and Publisher's Weekly, made Kirkus' New and Notable list for 2011, and was on both Locus's Recommended Reading List and the Barnes and Noble Best Fantasy Releases list of 2011. Its sequel, The Bones of the Old Ones, made the Barnes and Noble Best Fantasy Release of 2013 and received a starred review from Publisher's Weekly. He is the author of four Pathfinder novels,  an e-collection of short stories featuring the heroes from his historical fantasy novels, The Waters of Eternity, and the upcoming novel from St. Martin's, the first in a new fantasy series, For the Killing of Kings, which received a starred review from Publisher's Weekly.
Howard was the driving force behind the rebirth of interest in Harold Lamb's historical fiction, and assembled and edited 8 collections of Lamb's work for the University of Nebraska Press. He served as Managing Editor of Black Gate magazine from 2004 onward, and still blogs regularly at the magazine web site. He is the Editor for Tales From the Magician's Skull, published by Goodman Games, and the Executive Editor for Perilous Worlds, the new publishing imprint of Cabinet Entertainment.
When not helping run his small family farm or spending time with his wife and children, he can be found hunched over his laptop or notebook, mumbling about flashing swords and doom-haunted towers. He's worked variously as a TV cameraman, a book editor, a recycling consultant, and most recently, as a writing instructor at a mid-western college. He holds a second degree black belt in Shatokan karate and is training for his third degree.
2019 Scheduled Appearances
GenCon, Aug. 1-4
Indianapolis, IN
Frequently Asked Questions
Are you related to some famous Jones? Or are you secretly THAT famous Jones?
I don't think so. I use the middle name to distinguish me from the English pop star Howard Jones. My father used to tell me I was almost named Andrew Howard rather than Howard Andrew, which would have made it harder to distinguish me from the famous New Zealand cricket player with that very same name. So far as I know, I'm not related to either man, nor to writer Howard Mumford Jones, or writer/historian Howard Jones, or any other well-known Joneses. According to one family researcher, I'm remotely related to Nathaniel Hawthorne and James Fenimore Cooper, though I don't recall the details.
I see your name mentioned in conjunction with Harold Lamb a lot. What's that all about?
Harold Lamb was a talented historical fiction writer and, later, historian and biographer. I stumbled on his works when I was young and later learned that much of it had never been collected or reprinted. In the course of tracking it down I accidentally became an expert on the man's writing, and it was my pleasure and honor to shepherd a number of collections of his work into print. Lamb was far ahead of his time in many ways, both in pacing and his sophisticated portrayal of non-westerners, and it's my conjecture that he's the unsung grandfather of modern sword-and-sorcery and heroic fiction.