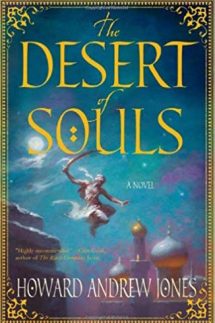 From: Thomas Dunne Books/St. Martin's Press
Formats: Hardback, Paperback, eBook, Audio
Buy on Amazon
Buy at Barnes and Noble
Buy at Books A Million
Shop Indie Booksellers
The Desert of Souls
In 8th century Baghdad, a stranger pleads with the vizier to safeguard the bejeweled tablet he carries, but he is murdered before he can explain. Charged with solving the puzzle, the scholar Dabir soon realizes that the tablet may unlock secrets hidden within the lost city of Ubar, the Atlantis of the sands. When the tablet is stolen from his care, Dabir and Captain Asim are sent after it, and into a life and death chase through the ancient Middle East.
Stopping the thieves—a cunning Greek spy and a fire wizard of the Magi—requires a desperate journey into the desert, but first Dabir and Asim must find the lost ruins of Ubar and contend with a mythic, sorcerous being that has traded wisdom for the souls of men since the dawn of time.  But against all these hazards there is one more that may be too great even for Dabir to overcome…
Praise for The Desert of Souls:
"The Desert of Souls is filled with adventure, magic, compelling characters and twists that are twisty. This is seriously cool stuff."
– Steven Brust, New York Times bestselling author of the Vlad Taltos series
"A grand and wonderful adventure filled with exotic magic and colorful places — like a cross between Sinbad and Indiana Jones." — Kevin J. Anderson, New York Times bestselling author of The Map of All Things
"Like the genie of the lamp, Howard Jones has granted this reader's wish for a fresh, exciting take on the venerable genre of sword-and-sorcery!" –Richard A. Knaak, New York Times and USA Today bestselling author of Legends of the Dragonrealm
"Howard Andrew Jones spins an exciting and suspenseful tale in his historical fantasy debut. A rich, detailed tapestry — part Arthur Conan Doyle, part Robert E. Howard, and part Omar Khayyam, woven in the magical thread of One Thousand And One Nights." — E.E. Knight, Author of the bestselling Vampire Earth
"An entertaining and enjoyable journey into a world of djinns and magic far darker than expected, yet one that ends with hope, both for the characters… and that there will be yet another book."  — L. E. Modesitt, Jr,  author of the Recluse Saga, the Imager Portfolio, and the Corean Chronicles
"A modern iteration of old school storytelling. Highly recommended to anyone in search of a fun run through strange lands and times." — Glen Cook, author of The Black Company Series
"Howard Jones wields magic like a subtle blade and action like a mighty cleaver in his scimitars and sorcery tale, weaving together Arabian myth, history, and some honest-to-gosh surprises to create a unique story that you'll not soon forget." — Monte Cook, author of The Dungeon Masters Guide, 3rd Edition
"A rousing tale of swords against sorcery. Howard Jones writes with wit and flair. His world is involving, authentic and skilfully evoked. The best fantasy novel I have read all year." — William King, Author of the Space Wolf trilogy and creator of Gotrek and Felix
"A whirlwind tale of deserts, djinn and doors to other worlds, told in a voice perfectly pitched for the style and setting." –Nathan Long, author of Bloodborn and Shamanslayer
"THE DESERT OF SOULS is an Arabian Nights adventure as written by Robert E Howard. It is exciting, inventive, and most of all fun." –Dave Drake, Author of The Legion of Fire
"In THE DESERT OF SOULS Howard Jones' celebrated characters Dabir and Asim finally receive the full-length treatment they have long-deserved. There's a lot to enjoy, here: mystery, fantastic adventure, and fascinating historical detail from the fabled reign of Harun al-Rashid. But best of all are the characters of Dabir and Asim themselves. They are no idiots pushed around by the heavy hand of an idiot plot; they are not puppets dancing on the string of some convenient destiny. They act with cunning and courage in the face of long odds–and any victory they get, they earn. For readers who love intelligent, deftly written adventure fiction, this is the stuff." –James Enge, World Fantasy Award nominated author of Blood of Ambrose.