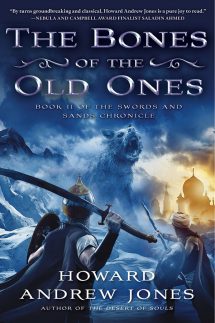 From: Thomas Dunne Books/St. Martin's Press
Formats: Hardback, Paperback, eBook, Audio
Buy on Amazon
Buy at Barnes and Noble
Buy at Books A Million
Shop Indie Booksellers
The Bones of the Old Ones
As a snowfall blankets 8th century Mosul, a Persian noblewoman arrives at the home of the scholar Dabir and his friend the swordsman Captain Asim. Najya has escaped from a dangerous cabal that has ensorcelled her to track down ancient magical tools of tremendous power, the bones of the old ones.
To stop the cabal and save Najya, Dabir and Asim venture into the worst winter in human memory, hunted by a shape-changing assassin. The stalwart Asim is drawn irresistibly toward the beautiful Persian even as Dabir realizes she may be far more dangerous a threat than anyone who pursues them, for her enchantment worsens with the winter. As their opposition grows, Dabir and Asim have no choice but to ally with their deadliest enemy, the treacherous Greek necromancer, Lydia. But even if they can trust one another long enough to escape their foes, it may be too late for Najya, whose soul is bound up with a vengeful spirit intent on sheathing the world in ice for a thousand years…
Praise for The Bones of the Old Ones:
"By turns groundbreaking and classical, Howard Andrew Jones is a pure joy to read."
–Saladin Ahmed
"Jones is a resurrector of unfairly forgotten tales and an illuminator of a neglected milieu. His love for the setting of the Dabir and Asim stories is as obvious as his grasp of classic sword-and-sorcery forms. The result is something rich and brisk at the same time, just as it ought to be." –Scott Lynch, author of Red Seas Under Red Skies
"The Bones of the Old Ones is one lovely fantastical adventure, blending mystery, romance and magic in such a way that I had to keep reading.  There were moments of laughter, passion, and edge-of-my-seat surprises.  A fabulous read!" –Elizabeth Vaughan, USA Today bestselling author of the Chronicles of the Warlands series
"In the midst of a sea of Tolkien clones, Howard A. Jones stands out with his Arabian Nights inspired detective stories. Rollicking, and magical. What more could you want?" –Mary Robinette Kowal, Hugo and Campbell Award Winner
"The Bones of the Old Ones is a damn good tale that not only pays homage to the masters, but sets its own print on the genre." — Jaym Gates, SF Signal
This rousing sequel to The Desert of Souls offers a mélange of ancient adventure myths populated by convincing, endearing characters… As intricately woven as the magic carpet of Greek sorceress Lydia, Jones's tale incorporates real historical personages and settings like Mosul of "haggard beauty" from the early days of Islam, and fills the pages with gallantry and glamour to provide a thrilling spectacle.
"No one writing today has a better understanding of what sword and sorcery is and how it should work… one of the preeminent voices in sword and sorcery, and the fantasy genre at large. If there's one author I read this year that I would beg my peers to read, it would be him. He's doing something that is simultaneously new and old, refreshing and traditional." –Staffer's Book Review
"First class New School Sword and Sorcery, and anyone with the remotest interest in Sword and Sorcery would be cheating themselves if they did not avail themselves to try the work of Howard Andrew Jones." –Paul Weimer, SF Signal
"Along with the strength of Jones' storytelling, The Bones of the Old Ones also brings with it what any good sequel must—further exploration of the world at hand that both enriches and expands upon the material introduced in its predecessor." –BookPage
"Jones has taken the best parts of the swords and sorcery template — fast pacing and storytelling panache — married it to a literary sensibility and, in so doing, revitalized the genre. His well-drawn characters and lyrical prose — written, it seems, for an oral telling — conspire to keep the reader from putting this novel down before the very last page." — Winnipeg Free Press
"Howard Andrew Jones has put himself on the list of great fantasy writers with The Bones of the Old Ones and I'm 100% sure that we will hear a lot from this guy in the next decade." — Fantastical Imaginations
"…as with Desert of Souls, the Bones of the Old Ones is a ripping yarn, written with economic authority, and is head and shoulders above most of the fantasy fiction you'll find on the bookstore shelves. This is pretty much a perfect sword & sorcery story, and I will actually give it a perfect score – recognizing that nothing in this world is perfect, but goddamn this is as close to perfect as we are ever likely to see." — Sword's Edge
" Jones does a near pitch-perfect balancing act between character, action, backstory, and narrative flow… I give The Bones of the Old Ones the highest recommendation" — Rob Bedford, SFFWorld.com
"Filled with a keen eye for adventure and a magical mix of sword and sorcery, Islam, fiendish wizards, duplicitous allies and interesting and fully realized characters, the "Bones of the Old Ones" is a terrific read." — Jeffrey Wendler, Examiner.com
"If you are a fan of Sword & Sorcery, I think you will really enjoy this book and if you have grown tired of the "same ole', same ole" when it comes to this genre, then there are no bones about it, this just will be the book that will re-energize your passions." Pop Cults
"The world building is absolutely stunning as readers are given rich and detailed descriptions that imagining their world comes effortlessly. The writing style of Jones is beautiful and gives the opportunity for readers to fully engage with the dilemma the protagonists face." — Jean BookNerd
"Jones is one of those authors that needs to be read, his voice is loud and clear and speaks like the wind travels thru the desert." Cape Rust, Roleplayer's Chronicle.