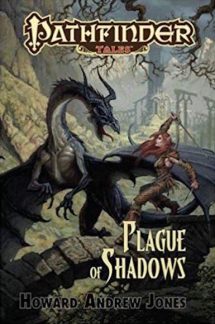 From: Paizo
Formats: Paperback, eBook, Audio
Buy on Amazon
Buy at Barnes and Noble
Buy at Books A Million
Shop Indie Booksellers
Plague of Shadows
In the third official novel in Paizo's Pathfinder Tales line, the race is on to free Lord Stelan from the grip of a wasting curse, and only Elyana, his old elven adventuring companion and former lover, has the wisdom and reflexes to save him. When the villain turns out to be another of their former companions, Elyana and a band of ragtag adventurers must set out on a perilous race across the revolution-wracked nation of Galt and the treacherous Five Kings Mountains, bound for the mysterious Vale of Shadows. But even if they can succeed in locating the key to Stelan's salvation in a lost valley of weird magic and nightmare beasts, the danger isn't over. For Elyana's companions may not all be what they seem.
Pathfinder Tales are the official novels and serial web fiction that further explore the fascinating world of the Pathfinder Roleplaying Game, each exploding with wild tales of sword and sorcery.
Do you want to Read More About Elyana?
A prequel short story, The Walkers from the Crypt, is available here, detailing an early mission at the side of many of her allies in Plague of Shadows!