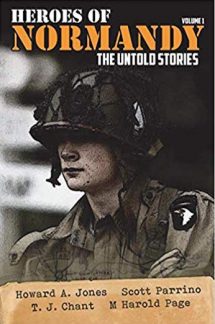 From: Lock 'n Load Publishing
Formats: Hardback, Paperback, eBook, Audio
Buy on Amazon
Buy at Barnes and Noble
Buy at Books A Million
Shop Indie Booksellers
Heroes of Normandy: The Untold Stories
Heroes of Normandy: The Untold Stories delivers seven action packed combat tales. You'll parachute behind enemy lines with a young Airborne soldier in the early morning hours of D-Day in "The Stovepipe Bluff" and lead British troops forward to battle with "Mack the Knife" and Lieutenant Julian as they discover the truest definition of heroism.
In "Mission of Vengeance" you'll witness the same events through the eyes of retreating Germans and advancing Americans and might end up rooting for both sides to survive.
In "The Reluctant Shepherd" you'll see how a seasoned British non-com whips his soldiers into fighting trim, and in "The Church" you'll experience a gritty assault against a stronghold in a German-held town, and learn the terrible secret hidden there.
"In the Presence of My Enemies" sends a German squad behind enemy lines to retrieve a wounded SS officer, and the luckiest soldier in the US Army joins forces with the worst British jinx to wreak havoc in "The Dice Have no Memory."