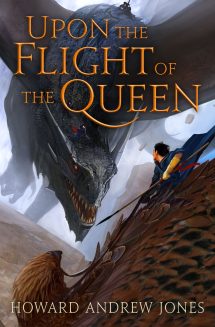 Available: November 2019
From: St. Martin's Press
Formats: Hardback, eBook, Audio
Pre-order on Amazon
Pre-order at Barnes and Noble
Pre-order at Books A Million
Pre-order at Indie Booksellers
Upon the Flight of the Queen
In this sequel to For the Killing of Kings, Howard Andrew Jones returns to the ring sworn champions of the Altenerai to continue this thrilling, imaginative, and immersive fantasy trilogy.
While the savage Naor clans prepare to march on the heart of the Allied Realms, Rylin infiltrates the highest of the enemy ranks to learn their secrets and free hundreds of doomed prisoners. His ailing mentor, Varama, leads the ever-dwindling Altenerai corps in a series of desperate strikes to cripple the Naor occupiers, hoping for a relief force that may not come in time to save what's left of her city and her charges.
Elenai, Kyrkenall, and the kobalin Ortok journey into the Shifting Lands to rekindle an alliance with the ko'aye, the only possible way to counter the terrible Naor dragons. However, even if they survive the hazardous trek deep through kobalin territory to find the winged lizards, the three are unlikely to get a warm reception, for the queen of the five realms refused to aid the ko'aye when their homelands were attacked, and the creatures have long memories.
While the Altenerai fight impossible odds to save the realms, their queen delves further and deeper into the magic of the mysterious hearthstones in a frantic attempt to unlock secrets that just might destroy them all.
Praise for Upon the Flight of the Queen:
"This powerful epic fantasy is a heart-racing, action-packed thrill."