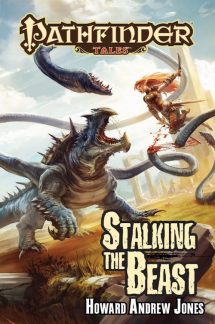 From: Paizo
Formats: Paperback, eBook, Audio
Buy on Amazon
Buy at Barnes and Noble
Buy at Books A Million
Shop Indie Booksellers
Stalking the Beast
When a mysterious monster carves a path of destruction across the southern River Kingdoms, desperate townsfolk look to the famed elven ranger Elyana and her half-orc companion Drelm for salvation. For Drelm, however, the mission is about more than simple justice, as without a great victory proving his worth, a prejudiced populace will never allow him to marry the human woman he loves. Together with a fresh band of allies, including the mysterious gunslinger Lisette, the heroes must set off into the wilderness, hunting a terrifying beast that will test their abilities—and their friendships—to the breaking point and beyond.
Do you want to Read More About Elyana?
A prequel short story, The Walkers from the Crypt, is available here, detailing an early mission at the side of many of her allies in Plague of Shadows!