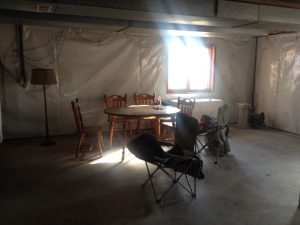 While my long planned site remodel is still delayed (owing to the influx of work stuff) the actual physical space of our home has changed over the last few months.
Here's a pic of what our basement has looked like for the last sixteen years or so. Concrete floor. Waterproofed walls. A bunch of junk — although here it is looking a little more organized because we were setting up for a high school graduation party.
Months later, the same space looks much, much nicer. And this next photo was taken before the carpet went in!