Hardboiled Monday: The Glories of Wade Miller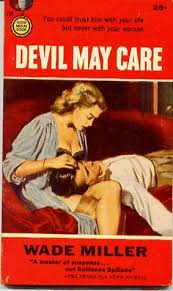 Writing as a team, usually under their Wade Miller pseudonym, Bob Wade and Bill Miller drafted some engaging thrillers and mysteries for Fawcett Gold Medal and other publishers all through the 1950s and into the early 1960s, before Miller's untimely early death. Their writing was tight and spare, yet immersive, and they knew how to quickly hook readers into propulsive plots. Their settings sprang vividly to life, and they were capable of subtle and even nuanced character development and dialogue. Ten years ago I'd never heard of them; now I consider them among my very favorite writers.
On my own highlights reel are a number of standalones and the entire Max Thursday series. That's not to say that each of the hardboiled private eye's adventures is equally good, but each Max Thursday book is a strong novel and every one of them is different from the others, both in tone and subject matter. They usually fall on the gritty side of things, and are intricately plotted, so don't go reading online discussions that tend to spoil the whodunnit. Unlike other hardboiled novels from the same era, the Thursday books are best read in order. Thursday starts out the series fighting alcoholism, and his relationships with secondary characters change in succeeding books. In order the Max Thursday novels are: Guilty Bystander, Fatal Step, Uneasy Street, Calamity Fair, Murder Charge, and Shoot to Kill. Here's a wonderful article over at Thrilling Detective that discusses more details WITHOUT revealing the endings. I can't guarantee that other discussions will do that.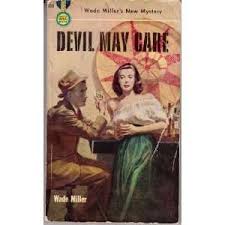 As for those standalones, right at the top is Devil May Care, about a brutal but oddly likable mercenary, Biggo Venn, heading down to Mexico for some easy cash. He's simple and honorable in his way, although no one would mistake any of his attitudes for modern political correctness. This is a great '50s adventure/thriller with some wonderful character arcs and subtle writing. It's also a little more purple than the Thursday books, but it sure goes down smooth. I was exchanging a note with Chris Hocking the other day and he relayed that there's a moment near the end when he realized he was reading something with a "kind of greatness" and I concurred. At a key scene, everything else in the book clicks suddenly into place and you're hit with a sense of appreciation and wonder that it was building to this point all along. Wade and Miller commanded subtle mastery of their stories.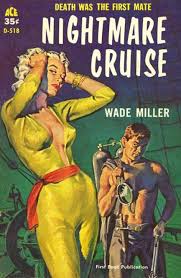 My other standalone favorites are the thriller Stolen Woman, about a piano player south of the border blackmailed into delivering a dangerous package, Nightmare Cruise, a somewhat lighter nautical thriller/murder mystery set in the Sargasso Sea with a coolly capable female yacht captain, and The Girl From Midnight, featuring a veterinarian who gets embroiled in a murder. And then there are Sinner Take All and Devil on Two Sticks, which beat slightly different paths down the trail of badmen tempted to leave their profession – one's an assassin and the other a highly placed mob figure. Just a little lower on the list there's Branded Woman, in print from Hard Case Crime, and Dead Fall, another mystery under their Dale Wilmer pseudonym. There's also South of the Sun, which I actually like better than some of these others at the bottom of the list, although as it isn't a thriller or adventure tale (or even a mystery) it's a slightly different animal. Certainly the writing caught me up the same way: it follows the lives of a number of interlocking characters over a few days in Acapulco. Depending on the day you might be able to talk me into including Mad Baxter, their semi-comic adventure novel set in Sardinia after World War II, or The Killer (printed in a single volume with Devil on Two Sticks by Stark House) or one of their police procedurals, A Cry in the Night. Others would name Badge of Evil or The Tiger's Wife, or Kiss Her Goodbye, but I didn't get as wrapped up in them. That's not saying that you wouldn't, just that Wade and Miller were capable of different kinds of writing, and some of their books might appeal to you more than others.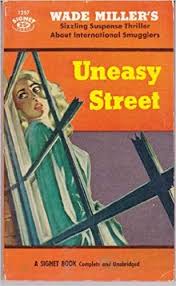 A final note: one subtle strength of Wade and Miller is too often overlooked. While never a special focus of their fiction, the women of Wade and Miller tend to be more fully realized people than we find in the work of their contemporaries. In few other 1950s thriller/adventure authors have I so consistently seen so many women with complex lives and motivations existing apart from living to assist or please the story's men. The books are written for their market and time, so people expecting completely "modern" attitudes will be frustrated, but these complex characters stand out, whether it be the capable and determined reporter who recurs in several Max Thursday novels, or a brilliant con woman/thief, or a daring sea captain, or others, like the woman trapped by circumstance and misunderstood and threatened in Devil May Care. It's almost as though Wade and Miller looked at women as (gasp) humans who could be just as motivated and driven as men. The only reason I don't rate Dead Fall higher is that the female lead, near the end of the book, suddenly becomes an emotional stereotype typical of her era rather than remaining a more realistic woman the two authors more regularly feature in their work.
The Max Thursday novels can be found as ludicrously inexpensive e-books here.
For a thorough discussion of their lives and work, as well as a complete bibliography, you can visit the Thrilling Detective web site.