Hardboiled Monday: Such Men are Dangerous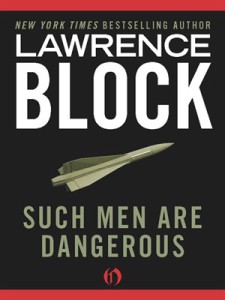 Following up on the hardboiled master list, I thought I'd talk about the book by Lawrence Block that holds the number two slot (because we're going in alphabetical order until we we get to the anthologies). Chris Hocking was kind enough to drop by and offer a few additional thoughts.Earlier discussions are here.
Just a brief aside before we get to the discussion — this evening I'll be at the DeKalb Illionois Public Library addressing the importance of fantasy fiction as part of this year's Big Read. Details are here.
I found Such Men are Dangerous to be a page-turner of a book with a chilling, fascinating narrator. It's a heist novel that's just this side of outrageous, but Block pulls it off. I'm curious now to try other books by him, including some of his series novels.
Chris: One of the best reasons for reading noir is the strange sense of disorientation the better examples can provide.  A story may have the drive, power and feel of a well executed genre thriller, yet take you in directions that stun or even alarm.  The events of this novel and the shocking, yet ultimately consistent, behavior of the narrator combine to shake the reader.
Howard: I can't help but like the narrator, even though it's pretty clear from early on that he's a little "off." Once he retreats from society it's even more obvious that he's crazy, but his choices all make perfect sense based upon the mindset he's chosen for his mental health.
Chris: For a while this one was pretty hard to find, but iBooks came out with a paperback about ten years back.  It's not like any of the other Block books I've read– the story's events and background are more larger-than life. Yet the first person narrator is such a memorable and strangely convincing lunatic that there is a sense of disturbing reality a bit reminiscent of Jim Thompson's stuff.
Howard: That's a really good point, but having read only two Thompson novels I probably wasn't in as good a place to notice it. It's not as bleak as Thompson, but the narrator is engaging and dark, just like a Thomspon protagonist.