Hardboiled Monday: Mike Dime and Stickman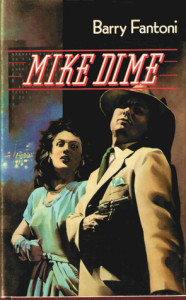 As with preceding Hardboiled Mondays, Chris Hocking and I are working our way down the master list in alphabetical order. Details and the list are here. And earlier discussions are here.
Today Chris and I are looking at two excellent, little-known, and hard-to-find private eye novels by Barry Fantoni, Mike Dime and Stickman.
Chris: Barry Fantoni worked on the British satire magazine Private Eye from 1963 to 2010. I understand that in addition to being an author, he's both a poet and a jazz musician. Stateside the guy seems to be little known, but he's the author of two memorable detective novels that are purest Chandler homage. These two books, Mike Dime and Stickman, were last produced by the UK publisher Sphere back in 1982, and are rarely seen in the USA. I blundered into Mike Dime in a closet-sized used bookstore in Nice, and found (triumphantly) its even rarer sequel Stickman, in a mystery bookshop in Toronto.
The point is that there are probably a lot of American mystery readers, detective fiction fans, and admirers of Chandleresque writing who have never heard of Fantoni and his creation. And that is just wrong.
Howard: These two are a skilled and loving tribute to the private eye genre, and bring Philadelphia in the post-war years to life as successfully as Chandler presented southern California. You get the sense that you're moving through a real time and place, which is the more impressive because Fantoni was writing historical fiction rather than contemporary drama.
They're clearly inspired by Chandler, but Mike Dime doesn't feel like a Marlowe clone and Fantoni doesn't quite pull off a pitch-perfect Chandler Sytle wise, like Paul Pine. I think that's intentional.
Chris: With an easy verve for the amusing Chandler-inspired turn of phrase, Fantoni's books walk a line that veers close to parody. There's plenty of wise commentary…
Then Uglo did something with his mouth that looked like a smile. But I wouldn't have known about that. It wasn't something I had seen a policeman do before.
And broad similes…
He was no taller than the Empire State and no wider than the Grand Canyon.
This wry tone is so steady that it's a bit of a shock that not only does it not grow tiresome, it actually provides consistent amusement. Fantoni exaggerates the Chandler style, but does so with skill.
While his style and intent is in no way similar to that of Norbert Davis, Fantoni has in common with Davis the ability to switch gears from light and bantering to dead serious and frightening at the drop of a fedora.
At times the jaunty tone of the narrative falters and the melancholy side of the hardboiled detective genre gleams through with rare poignancy. The detective tries to do right, find the truth, right the wrongs, and when he finally does these things his reward is often no reward at all. He learns things he wishes he never knew, and sees his success eclipsed by both the damage it leaves in its wake and by the greater, unassailable wrongs in the world at large. There is a scene in Stickman which captures this chill melancholy as well as anything I've read in the genre. A scene of sorrow so honest, yet so unrecognized, that it comes across as darkly comic.
There are some genre-standard thugs, and at least one show-stopping, old-school, no-apologies femme fatale who seems to have escaped from a Mickey Spillane novel, but these familiar elements don't detract from the enjoyment derived from reading what is basically a heartfelt, skillfully wrought love letter to Raymond Chandler and the fictional detectives he inspired.
Howard: I liked them quite a lot, and I fully plan to re-read them.  They were well structured and they transported me into another time and place. The mysteries were top notch — suspenseful, with good twists and turns. I couldn't see where they were going but it all made sense when the ends came around. Stylistically Stickman is probably just a little stronger. I remember enjoying them equally well, but moments from the first one stick out more clearly for some reason.
In any case, I thoroughly endorse tracking these down. I'm sort of surprised that Fantoni didn't write any more of them, but he seems to have been busy in other fields, and it may be that the work didn't receive the appreciation it deserved.