Hardboiled Monday: Queenpin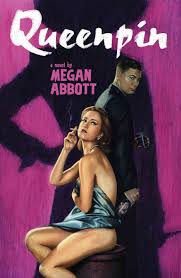 As with all Hardboiled Mondays, Chris Hocking and I are working our way down the master list in alphabetical order. Details and the list are here. And other discussions are here.
Every Monday until we reach the end of the list we'll discuss another book from the list, working our way down in alphabetical order. Any questions about the contents of the list can probably be answered on the preamble on the post about the list itself. The list was created by Hocking to lure me into reading hardboiled and noir, based on his reading in both genres for more than three decades. It worked. Being good doesn't get you on the list; a work has to be great, keeping in mind certain idiosyncrasies that I discussed in the original post.
First up is Abbott's Queenpin, and I see from my notes that I put a star by it. Generally I liked everything on the list, but some books got a gold star, which meant that I REALLY enjoyed them.
One of a handful of modern hardboiled and noir books on the list, Abbott's Queenpin was so good I'm set on reading more from her. As you might be able to guess from the title, Queenpin's about a woman who rises to become a powerful figure in a crime cartel. It's the only novel on this list with a female protagonist, but that's not why it's here – it's a thrilling read. I'm not at all surprised it won an Edgar Award.
I'll leave a more informed discussion to Chris Hocking, who wrote the following: "I included Abbott's short story "Our Eyes Couldn't Stop Opening" in the Akashic Books collection Detroit Noir.  It's one of the strongest looks into an adolescent mind I've read, and a guarantee that I'd follow the author's work thereafter.  Although an editor isn't supposed to mention favorites, that story still stands out for me, and not just me alone– it was selected for the publisher's 'best of noir' anthology, USA Noir.  Queenpin is an excellent, character-driven crime story that freshens classic noir tropes so sharply and sweetly that you don't recognize them until they've sucker-punched you."