Hardboiled Monday: Howard Browne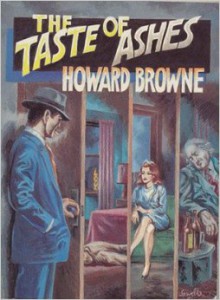 As with preceding Hardboiled Mondays, Chris Hocking and I are working our way down the master list in alphabetical order. Details here. And earlier discussions are here.
Chris Hocking recommended all of Browne's mystery novels: the four Paul Pine books and a standalone, Thin Air. I couldn't lay hands on the first three Paul Pine books, and Thin Air got lost in the mail, but Hocking had given me The Taste of Ashes. It came wrapped in a deceptively mediocre cover that provided little clue as to how outstanding the prose within would be.
Ashes is not only one of the finest hardboiled novels I've read, not only one of the finest mysteries I've read, but one of the finest books I've ever read in a long history of book reading. It's the last of Browne's detective novels, but the only one I had on hand, so I started there. It easily got a gold star. The moment I finished it I knew I'd be reading it again, and I am set on reading more Browne. I was immensely impressed. I'm waiting to read the rest of the Paul Pine detective novels to be released in hardback through Haffner Press. Hurry up and print them already, Stephen! Given the rarity of all four of these books, given that there's more Paul Pine stories inside, and given the excellence of the one I read and the high quality of Haffner Press products, $40.00 is a bargain.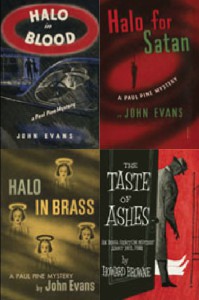 Chris: I got peeved with Howard because he read The Taste of Ashes before the others in the series, and especially because he hadn't finished reading Chandler yet.  An over reaction of course, but while all of the books in this series are good, The Taste of Ashes is both the last and the best.  Reading Chandler's work first actually sharpens appreciation of this novel. Browne is, to my mind, the finest direct follower in the Chandler style–loading the pages with lush similes, tight dialogue and head-spinning plot twists.  If you enjoy classic American detective fiction this books brings it on so heavy you won't want to stop reading.
The Taste of Ashes has an absolutely tragic publication history.  Apparently this book had only a single hardcover printing in 1957, and when it was time to issue it in paperback the publisher insisted it be cut substantially.  Browne didn't want to do that to his novel, so it wasn't given a paperback printing until little Dennis McMillan press brought it out in 1988.  I was delighted to finally get my hands on it, but I can't help but wonder how much better known the book might be if it hadn't been out of print for thirty years.  It is pure sacrilege to say this of what is undeniably a Chandler pastiche, but Taste of Ashes is so well wrought that I believe it stands up to the best of Chandler.
Howard: Having now read all of the Chandler novels I think I can easily say that The Taste of Ashes stands up beside Chandler's lyrical best. And this may be heresy, but I honestly think The Taste of Ashes is better than a number of the Marlowe novels. Chris pointed out to me that Browne is a tighter plotter, and he's absolutely right. Chandler's plots can wander a little. The Taste of Ashes never did. I'm very, very interested in seeing the rest of the Paul Pine novels and related stories Haffner's dredged up for his collection.
Chris: You'll enjoy the earlier Browne novels.  They're great private eye fiction.  It's just that they don't pack the weight of The Taste of Ashes.  The first two, Halo in Blood and Halo for Satan, are fast and fun, lighter and crackling with wry humor in the Chandler style.  I thought Halo in Brass a bit more serious in tone, and I recall I found its plot as complex as a topology problem.  All fine stuff I need to re-read.  But The Taste of Ashes stands apart.  I've already re-read that one.  And at some point I know I'll do it again.