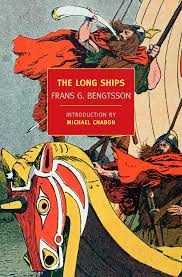 Here's another grand adventure novel that any lover of such really ought to read, or keep on the shelf to read again. My own copy's so frayed I'll probably pick up another, because it's one I intend to revisit.
You can find a lot of praise about just how fine The Long Ships is, and I could throw in my own weight and say, yeah, it's a great adventure novel and thereafter provide detail, but I have books to write and a house to clean, and besides, here's Michael Chabon. Check out what he has to say.
A movie was made in 1964 based upon the first third of the book, starring Sydney Poitier and Richard Widmark. I seem to recall it was both pretty good and fairly faithful. The book, though, is where you ought to go first.