Gray Maiden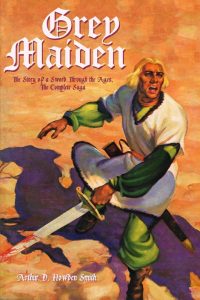 I had a longer post in mind, but I need to get to some yard work before it heats back up today. So here's a great old short story series that any heroic fiction appreciator ought to snag.
I remember when it was only possible to get some of the Gray Maiden stories. Now you can snag them all in a single book.
Gray Maiden is a series of short stories originally published in that great old pulp, Adventure, about a sword that's handed down through the ages. There are minor notes of the supernatural in most of the stories (very minor, but still notable given Adventure being reality based) but what's most appealing is just the slam bang action of the tales.
I've written about Gray Maiden before (and Black Gate's Matthew David Surridge has written about one earlier collection here). Some of the stories are pulpy, some are dry, but at least half are top notch action pieces. The one set in Viking times, for instance, is one of the best Viking stories I've ever read, and then there's the one about the Carthaginians trapped behind in Italy after Hannibal evacuates, and their desperate effort to escape…
The only thing in common with each of the stories is that grand, terrible old sword, Gray Maiden. It's whispered that no one who wields it can be defeated in combat with a sword, and the blade itself is impossibly sharp.
Anyway, you should get the book and read the stories. You can buy it here in various formats, and of course through the usual channels.
I like the concept behind these stories so much I actually wrote my own Gray Maiden story, featuring an Arabian hero who gets his hand on the sword. I haven't written "fan fic" since junior high, when I was writing my own Star Trek stories. I suppose I should try to get that Gray Maiden story published some time…
Oh, and incidentally, that book cover is from an issue of Adventure that featured one of the all-time best Harold Lamb stories: that's probably Nial O'Gordon right there, who would have been his most famous character if he'd written more than two stories about him. Lamb, by then, was successfully writing history books and writing for the better paying "slick" magazines, so only two Nial O'Gordon stories ever saw print. So far as we know, he didn't compose any others. A pity. (You can find them both in Swords from the West.)