Rare Treasures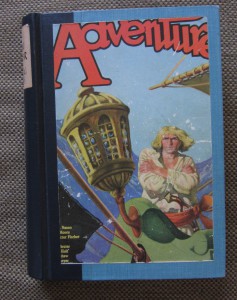 I'm still moving forward at a fast clip into the rough draft of my next book, although I've had a slow start this morning. Now that I'm not reading a long Conan story every week, and that the season is over for my daughter's high school swim team, I have a little more time to read. On the docket soon are some books by friends and acquaintances, the first being an e-book I'm long overdue getting back to (sorry, Peter!).
First, though, I'm finally finishing a read through of an anthology that's a little like a mixed tape. I discussed my collection of one-of-a-kind pulp anthologies a few years ago if you want a little more information. Each was created, compiled, and hand sewn by pulp collector Al Lybeck. The one I'm reading right now includes several short novels:
"Libertatia" — Farnham Bishop
"The Snow Driver" — Harold Lamb
"Rusudan" — Harold Lamb
"Dregs of Defeat" — Georges Surdez
And a bunch of short stories:
"Buccaneer Trap" — F. van Wyck Mason
"Post Sargent" — Jacques Coeur
"The Place of Birds" — Lewis J. Rendel
"Swain Fostri" — Arthur D. Howden Smith
"The Last Legion" — Arthur D. Howden Smith
"The Unconquerable Jennings" — J.D. Newsom
"The War Cats of Dugan O'Day" — John Dorman
"Miracle of Madness" — Lewis J. Rendel
"Orlick the Eagle" — Kenneth Malcom Murray
That's a WHOLE lot of pulp adventure in one anthology, hand picked by a gentleman who wanted to preserve his very favorite stories for re-reading. So far Lybeck seems to have excellent taste. I already knew the Lamb stories, naturally, and Smith's "The Last Legion" from a collection of his "Gray Maiden" stories (about a fantastic sword handed down through the ages). But the rest? I've little idea. The Swain tale may be good or dull, depending upon how the dice fell, but it will have Vikings in it (Smith was inconsistent that way). And I know that the Surdez will probably be a French Foreign Legion adventure — he was famous for penning those in Adventure magazine, and is probably the only famous Adventure writer I haven't read.
Anyway, it's grand fun working my way through. Since I don't know what any of the other tales will really be about, I'm going in expecting to be entertained and surprised, just as I might have long, long years ago if I were to pick up a copy of Adventure magazine from the stand. Except that these are "best of" volumes, so there are likely to be few duds apart from when (if) I disagree with Al's judgement over a tale's merits. I wish Al were still around so I could ask him more about why he'd picked these particular yarns.
These anthologies remain a glorious jewel of my book collection, one I'm savoring slowly. You can't read TOO much pulp back to back, after all. And these being one of a kind, once I DO finish reading them, there simply aren't any more.