Seven Kings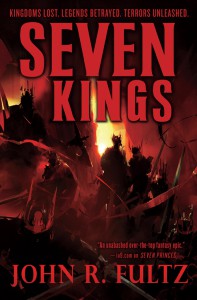 The second book from the talented John Fultz was released in trade paperback just last week, and I wanted to call your attention to it. If you're used to a sort of Tolkienized fantasy, Fultz's work, laden with the wine of wizardry and high octane thrills distilled from vats once owned by Lord Dunsany and Clark Ashton Smith, is a rich and different sort of treat. Here's the official blurb for Seven Kings:
In the jungles of Khyrei, an escaped slave seeks vengeance and finds the key to a savage revolution.
In the drought-stricken Stormlands, the Twin Kings argue the destiny of their kingdom: one walks the path of knowledge, the other treads the road to war.
Beyond the haunted mountains King Vireon confronts a plague of demons bent on destroying his family.
With intrigue, sorcery, and war, Seven Kings continues the towering fantasy epic that began with Seven Princes.
Get thee to a book store and grab a copy! You can try out a sample chapter over at Black Gate.