On Conan and Writing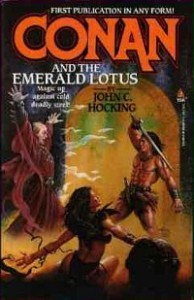 Following on a great post by Fletcher Vredenburgh about Karl Edward Wagner's Bran Mak Morn novel (over at Black Gate), I decided to update my own post on Conan pastiche. I've read, or tried to read, a lot more imitation Conan since I wrote the document and thought it high time to update the thing.
My own writing proceeds apace. Onward and upward. It looks like final changes are finished on my next Pathfinder novel, coming this fall (through Tor!).
I'm not sure when For the Killing of Kings will be released through Thomas Dunne Books/St. Martin's, but it's looking more and more like it will be this coming winter. First, though, I have to finish this revision. I'm shooting to have that draft complete by the end of April. On a long trip recently I started reworking the outline for the second book and am so excited with it I'm having to restrain myself from jumping into work on it right now.