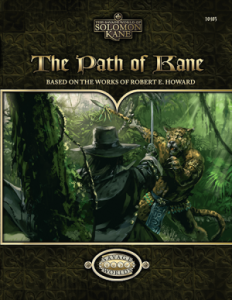 Anyone who's read The Desert of Souls and knows their way around Robert E. Howard's stories probably could tell I was a fan of Solomon Kane, owing to the brief appearance of a certain cat-headed staff near the novel's conclusion
Given that I'm a huge REH fan and a gamer, it seemed only natural that I finally lay hands on the Savage Worlds game line dedicated to Solomon Kane himself.
In my rare moments of down time over the last weeks I've been learning the Savage Worlds system in preparation for running some "investigating the unknown in the time of the 1600s" adventures for the family.
The Savage Worlds of Solomon Kane books are gorgeous, well presented with lavish illustrations, and crammed with information about the time period, the setting, and adventures — lots and lots of adventures.