Mystery Box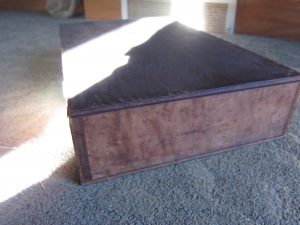 About twenty years ago I was idly searching for Harold Lamb books in an online used book search service. I was well enough acquainted with Lamb's work by that point to know the titles of all of his books, so I was a little mystified when two appeared that existed in no known database.
When I contacted the seller I learned that these were one-of-a-kind books. Dr. John Drury Clark had removed a handful of pulp stories from Adventure magazine and bound them in two small hardbacks. They were being sold off by his widow.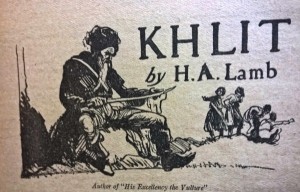 These were pure gold to me — there was no way to find the stories unless I wanted to drive to some distant library with a rare book collection, or spend years haunting pulp magazine conventions. Remember that Lamb didn't just have a handful of uncollected stories — there were dozens upon dozens of them.
Even better, his widow told me that he'd saved dozens more, intending to bind them as well, but had never gotten around to it. They were in fairly poor shape, but intact, she said. I offered to buy them and she said she'd sell them. It was kind of pricey for a young couple like us just starting out, but my wife was supportive and understanding.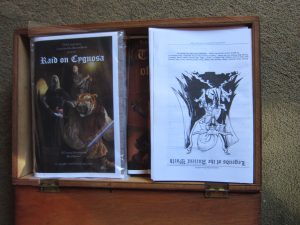 And lo, but there were treasures within. Some DID have crumbling edges, but most were in fair shape. Within were three tales of Khlit the Cossack that had never been collected, including the outstanding "The Curved Sword," the two novellas of Nial O'Gordon, about whom I wish Lamb had written much more, loads of short novels, some originally published in three or four parts, and a slew of standalone stories of Cossacks and Crusaders.
These pulp stories formed the bulk of the collection I scanned to assemble the Harold Lamb anthologies for Bison Books/University of Nebraska Press. I purchased a scanner in the first place to preserve the ones that were most fragile, which left me in excellent shape when I went to propose a whole series to their editor.
To scan the tales, I had to remove the stories from the original bindings of Dr. Clark, but I kept that original treasure box. Today it sits in a place of pride on top of my desk shelves, housing my Dark City Games collection.