Author Sightings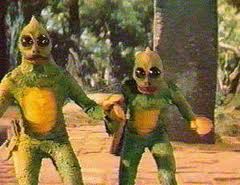 On January 15th I'll be driving to Terre Haute to talk to some ISU creative writing students about writing and the business thereof, and then, at 6:00, I'll be signing copies of The Bones of the Old Ones at the Terre Haute Barnes and Noble. I suppose I could sign other items as well, if you really want. For instance, if you need a signed copy of Memory of Light, or always wanted a signature on your Land of the Lost costume, I'll be happy to help out.
From January 18th to January 20th I'll be at ConFusion up in sunny Dearborn Michigan. I attended ConFusion for the first time last year and it's a great convention. The staff are personable and very well-organized. There's a strong gaming track AND a strong writing track, and the panels are intimate. Also, there are a number of movers and shakers at ConFusion with whom it's usually hard to rub elbows at larger cons.
You can find more details at the official ConFusion site, but for the record I highly recommend it. Try it out before everyone's in on the secret and it gets TOO big!
Here's my panel and reading schedule. I don't have any information yet on who my fellow panelists will be, but I'm sharing a reading with Saladin Ahmed:
Saturday          12:00:00 PM  Modern Fairy Tale
Saturday          1:00:00 PM  Languages Of Fantasy And Science Fiction
Saturday          5:00:00 PM  Mass Autograph Session
Saturday          7:00:00 PM  Please Do The Research
Sunday            10:00:00 AM  Religion In SF/F
Sunday           11:00:00 AM  Reading: Howard Andrew Jones & Saladin Ahmed
Speaking of Saladin, he's got an interesting world-building article over at NPR you should go check out, and speaking of talented writers, you should go read John Fultz's latest piece (for free) over at Black Gate!