Of Swords and Gorns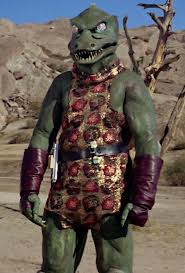 What strange times we're living in. Just ten years ago there was a pronounced lack of sword-and-sorcery on the shelves. I'm sure some of my forum posts on this subject, lamenting the injustice of the situation, can still be found. Yet here we are in 2013 with a whole lot of popular book series now flavored with sword-and-sorcery sensibilities — the headlong pace, the gritty feel, the action sequences, all that. While my own work has more glitter than grit, it's still sword-and-sorcery, and, better yet, it's among those making end-of-year lists.
Last year, The Desert of Souls made the top ten of the Barnes and Noble SciFi and Fantasy Blogs Best Fantasy list; this year The Bones of the Old Ones got there as well! Here's the 2011 list, and here's the 2012 list. Great reading is to be found on both, even if you're not into Arabian swashbuckling. It's nice to be on there with a number of friends, including Saladin Ahmed and John Fultz!
With The Desert of Souls released in paperback in January of 2012, it qualified for a 2012 end of year list from noted reviewer Paul Weimer. And J.J.S Boyce, reviewer for The Green Man, Winnipeg Free Press, Blogcritics, and Sleeping Hedghog, selected The Bones of the Old Ones as the best new fantasy title of the year!
In other Jones-related news, a panel I was on at Chicon 7 (aka Worlcon 2012) was recorded for posterity and recently released online by Timothy Ward. In it, I sat down with four fine fellow authors (Louise Marley, Rachel Neumeier, Jack Skillingstead, Lynda Williams ORU) and talked about how to Write What you Don't Know. My basic thesis is that if you want to write it but don't know about it, go do the research — you're not confined to writing about ONLY the things that you've experienced. For instance, say, grad school and creative writing programs. You can then color your writing with your own observations on the nature of man, the way people converse and interact, and all that. Other people have more clever things to say. Anyway, the recorded panel is here.
Another review of The Bones of the Old Ones went live at SFFWorld, where writer Rob Bedford had some very kind words, among them "Jones does a near pitch-perfect balancing act between character, action, backstory, and narrative flow." So, THAT's pretty cool.
Now I must ride off to the world of Golarion and work away on my second Pathfinder novel. It is beginning to shape up nicely after I threw out the first two chapters and wrote a whole new beginning. Out with the old, bad, naughty words, and in with the brilliant, clever, sparkling clean ones!
In unrelated news, the Star Trek fight song from the episode "Amok Time" is stuck in my head this morning. It's a frequent earworm for me, but today it's really ratcheted up a notch. Maybe I need to take a break and go wrestle a Gorn or something. If you want it for your own listening pleasure, click here to witness the timeless spectacle of Kirk and Spock battling to the death.