Fafhrd in the Mail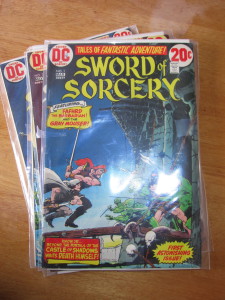 It's been a busy, productive week, with some nice surprises.
First, I wanted to point everyone to the new contest on my site to win a free copy of one of my books, and, potentially, a free copy of books by many other authors. Go take a look!
Next, I wanted to share a surprise that appeared in my mail the other day. I think I mentioned that I have been greedily reading through a long list of hardboiled fiction recommended by my friend John Chris Hocking. I sold off a parcel of comics and books via e-bay and my friend Wayne of Wayne's Books to fund my hard boiled exploration. (A lot of this stuff can't be found in libraries, and has been out of print since the '40s or '50s. It's hard to come by except through used book sites like AddAll).
So I wasn't startled Tuesday when I had packages in the mail. I opened each one, eager to see what lay lie within, and lo and behold, out of the blue Scott Lynch had sent me a stack of DC Fafhrd and  Gray Mouser comics. For those of you not in the know, DC had a brief run of these in the early '70s. Being the huge Lankhmar fan that I am, I have been curious about them for ages, but never thought to see one, much less hold or own one. Now, thanks to Scott's generous gift, I've got almost the whole series. Have I mentioned he's just a cool cat and one of my favorite people?
Comic fans might immediately wonder if I'm aware of the excellent Mike Mignola Lankhmar adaptions from the '90s, and I very much am. I have them in several editions. But I never had these, which came out when I was five. These are different beasts, with art by Howard Chaykin, Walt Simonson, and Jim Starlin.
I suppose it's possible you're reading my work and have NO idea who Fafhrd and the Gray Mouser are, so I'll say what I tell everyone new to the pair. It's some of the finest sword-and-sorcery ever written. It (mostly) consists of short stories that are more-or-less standalone, although some do follow in sequence. Opinions vary, but to my mind the best run comes from earlier in Fritz Leiber's career, and that makes things confusing, for Leiber wrote stories that were chronologically earlier for his characters when he himself was chronologically older. So to speak. Anyone trying to read the stories "in order" is going to find the style uneven.
Here, then, is my list of  favorite Fritz Leiber Lankhmar tales:
The collection that got me hooked was Swords Against Death, and I still think it's the most consistently entertaining of all the volumes. In case you have a later compilation, all the stories but the first in the book ("The Circle Curse") are on my best list:
"The Jewels in the Forest" (novelette 1939 Unknown, as "Two Sought Adventure")
"Thieves' House" (novelette 1943 Unknown)
"The Bleak Shore" (1940 Unknown)
"The Howling Tower" (1941 Unknown)
"The Sunken Land" (1942 Unknown)
"The Seven Black Priests" (novelette 1953 Other Worlds)
"Claws from the Night" (novelette 1951 Suspense as "Dark Vengeance")
"The Price of Pain-Ease" (1970, first publication)
"Bazaar of the Bizarre" (novelette 1963 Fantastic)
Swords in the Mist has a pretty good ratio as well. "Adept's Gambit" always felt a little patched together and hasty to me, but I liked all of these:
"The Cloud of Hate" (1963 Fantastic)
"Lean Times in Lankhmar" (novelette 1959 Fantastic)
"When the Sea-King's Away" (novelette 1960 Fantastic)
Swords Against Wizardry is pretty strong. There's two, short throw away tales, but it's anchored by two long novellas:
 "Star Dock"
"The Lords of Quarmall"
Finally, the novel The Swords of Lankhmar is a rollicking good time, even if it reads more like two tightly connected novellas than a true novel. Who am I to quibble? I liked it very much.
There endeth  everything that I revisit as far as Fafhrd and the Gray Mouser. True fans might be aghast that I don't mention the award winning  "Ill Met in Lankhmar." It has its moments, but it's the only story in all of Swords Against Deviltry that I  truly enjoy. Unfortunately, Swords Against Deviltry is usually the first collection people  encounter, as it contains the earliest adventures featuring either Fafhrd or the Mouser. I've known many people who've stopped there, thinking the stories within are an indication of quality for the rest of the series. It isn't so!
Right. Well, I'm going to go be productive. Or maybe I'll settle back and read the first issue of Sword of Sorcery and see what's going to befall Fafhrd and the Mouser!
Thanks again, Scott! Oh — and if you're not reading the brilliant, swashbuckling work of Scott Lynch, get thee to a bookstore and pick up Lies of Locke Lamora, or his latest, The Republic of Thieves!