Star Trek Continues with "Lolani"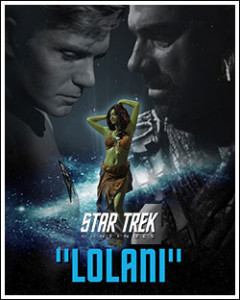 Despite the fact we've just returned from a vacation to the Virgin Islands, here at Jones central my children are most excited by the local convention, EvilleCon, which they've been attending for the last two days, one dressed as Maes Hughes (from Full Metal Alchemist), and the other as Aloise (from Black Butler). Apart from hanging out with friends and others who love the industry, I think they've both been most excited to chat with Vic Mignogna, who they've found warm, personable, and passionate about artistic pursuits.
I happen to be a fan of Mignogna's work myself — he gave voice to Edward Elric, my favorite character in the best anime I've yet watched, Full Metal Alchemist: Brotherhood, acquiring the  American Anime Award for Best Actor in 2007 for his performance. But as if that wasn't enough, he's one of the guiding forces behind Star Trek Continues.
Regular readers of the blog may recall the last time I blogged about Star Trek Continues and how much I enjoyed seeing what felt very much like a lost episode from the original series of my favorite show. (I likewise blogged about it over at Black Gate.) Well, when my son returned from EvilleCon last night he told me he'd seen part of another Star Trek Continues episode, "Lolani," which was released in February. Somehow I had missed the release!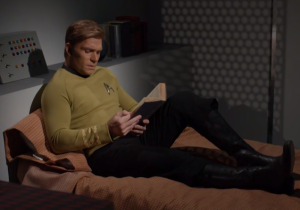 I watched it first thing this morning and I was even more impressed with this episode than I was the first. By God, it's not just that the sets are right — it's the entire feel. It's the little touches, from the fadeouts to the film quality to the patented Kirk attack moves… and most of all to the writing and acting. This time out the script deals with some pretty complicated issues. It takes a kind of character who has been objectified over and over in Trek mythos and gives her a voice — and provides the regular cast with a whole host of moral quandaries. I found it, in a word, outstanding. As a matter of fact, I thought it could stand shoulder to shoulder with some of the finest entries in the original series. Any original Star Trek fans really ought to give it a look as soon as possible.
Later this week, after I've had time to give the matter more thought, I'll try to provide a more nuanced discussion of the episode over at Black Gate. Right now, though, I'm trying to decided whether or not I want to drop by EvilleCon myself. Not to attend a variety of anime-related panels, because beyond Full Metal Alchemist: Brotherhood, I'm pretty ignorant. No, if I go, it would be to seek out Vic Mignogna in person and thank him for helping to bring to life new episodes of the original series, and for portraying the Kirk I remember wanting to be.