Heroes of Normandy
At some point late last year I'm sure I mentioned another secret project I was working on. At long last I can unveil it.
Regular visitors are no doubt aware that the Lock 'n Load Tactical series of games is among my favorites. Well, I was contacted by Lock 'n Load Director of Operations David Heath early last year about the feasibility of writing some stories utilizing some of the characters from the game.
I had never, ever, contemplated writing stories set in World War II, but David was persistent, and a super nice guy, and the publisher of one of my absolute favorite games, so I decided to try. And I had a blast. Things were made a little simpler for me, research wise, because I'd been on a huge WWII reading kick. The timing couldn't have been better because scores of facts were still fresh in my mind. Who knew that by reading for pleasure I'd actually been laying a lot of ground work for future fiction?
Once I'd written one short story to my satisfaction (I wanted to make sure I could pull one off before signing on for more) we started pulling in more writers, starting with my friend Martin Page. He ended up contributing two stories to the volume, and introduced me to Tim Chant, who wrote another. Dave brought in writer Scott Parino and editor Hans Korting, who was a tremendous aid in making sure we had all the details right. For instance, in my third story in the volume I had the wrong sort of plane strafing my heroes. Sure, it was from the right era, but it would never have been flying at dusk. Hans knew his stuff.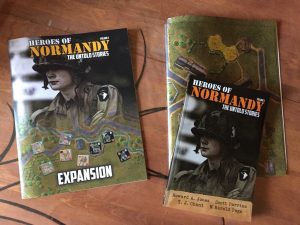 Here it is, Heroes of Normandy, The Untold Stories. I'm really proud of how well this one turned out. I think we've generated some really strong tales. It's available through the usual channels as a paperback. Or if you play Lock 'n Load Tactical, you can get it packaged with a map and scenario booklet so you can play out some of the events that happens to the characters in the story! That version is available through the Lock 'n Load site, here. (Keep in mind that unless you already own the Heroes of Normandy game this expansion won't enable you to play anything!)