Clock of St. James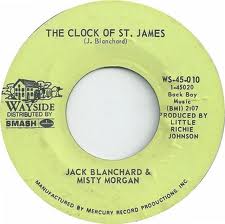 Sticking with the theme of music, I thought I'd post the flip side of yesterday's single. Like "The Tennessee Bird Walk" this is something I used to hear when I was 5 or 6 and hadn't heard in decades. I recalled that it was strange and haunting.
Now, upon revisiting, I discover it's still haunting. I see why it stuck with me.  I've never been that big a fan of country music, and it definitely has the country twang. It also is music of its era… which is, of course, to be expected.
What I like are that the lyrics are extremely evocative and tell a surprisingly vivid story of… well, I don't want to give anything away. I'll say at first, when the song is playing major chords, you think it's just going to be the colorful description of a city, but by the third line the character of the narrative changes completely.
The background vocals on the chorus really push a dark, gothic feel, and the way the clock chime is worked into the end of the chorus is genius.
I liked it so well that I'm going to look into more work by Jack Blanchard & Misty Morgan and see if they have any other treasures. Anyway, here is "The Clock of St. James."
In case anyone cares, my wife has continued to clean my clock while we were playing Iron Dragon. One day I will win again…