Gardner Fox Swashbucklers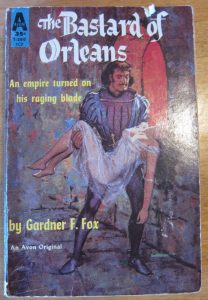 Back in 2015 I was pretty thrilled by Gardner Fox's old historical The Borgia Blade. You can find that review here. I was quite pleased by that one, and a little surprised, as I had abandoned his Kothar sword-and-sorcery stories after several heroic efforts on my part. The Borgia Blade was in a whole different category, as you can see from my review.
I've since read another by him still far better than Kothar, but not in the same class as The Borgia Blade, which was so good I've continued to search for more gold in his body of work, aided by a list from my friend Morgan Holmes (sword-and-sorcery scholar extraordinaire) that had a whole slew of Fox's historicals under his own name as well as those written under pseudonyms.
First up (just as soon as I finish some other books) is The Bastard of Orleans. After that will come another Gold Medal paperback, perhaps Terror Over London. I've never shared the fascination with Jack the Ripper that many people have, but Chris Hocking tells me that this book is supposed to have a good reputation.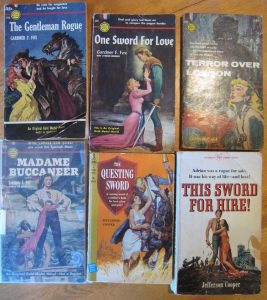 When I read The Borgia Blade I was unaware of the reputation for excellence held by the editors of Gold Medal back in the day, skills that might account for them getting the absolute best from Fox. I've heard that some of these other books are supposed to be really strong as well — although I've also heard from none other than Hocking that one of Fox's Gold Medals, Queen of Sheba, was terrible. An exception, we think, at least for Gold Medal. I've been reading a lot of stuff from that famous old line and all of it has been good to great. If only I'd known sooner when those Gold Medal books were easier, and cheaper, to lay hands on! But I wasn't ready to try that yet, because I was still finding my way through the fantasy and sword-and-sorcery field.
Why oh why am I reading so much older fiction? Well, when it's good, it seems to be head and shoulders above a lot of what's written today. Stronger pacing, leaner yet more descriptive prose. More understatement rather than emotional moping. And NO PADDING. Put that way, it probably makes a lot of sense.