Worldcon Friday Morning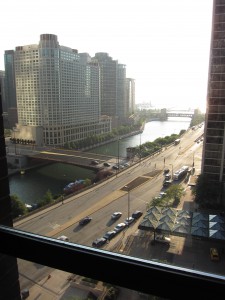 It's Friday morning here in Chicago and another day of the 70th Worldcon is dawning. James Enge and I ended up with a spectacular view from our hotel room, and my camera actually does it some justice. Below us is the Chicago River, winding its way out to Lake Michigan, and the Navy Pier.
I arrived mid-afternoon Friday after a long drive. I'll provide further updates upon my return. Today I give my reading at 12:30 in the DuSable room. Unfortunately, I acquired a cold from my son this week. The sniffles are mostly cleared up now, but it's settled into my chest, so I sound strangely deep. Maybe it will help. What won't help is the fact I had one of the worst night's sleep of my life, thanks to me taking too much cold medicine. I'm pretty bleary this morning.
Right, well, off to breakfast.