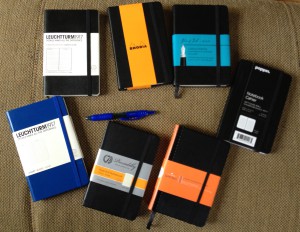 Sometimes I re-learn writing lessons without pain. Or maybe I should say sometimes what I know is a good writing technique gets confirmed, because I actually remember to apply what I learned.
Yesterday I had to run a bunch of errands on the far side of town. I grabbed my writing notebook just in case… and when I took the wife's car in for an oil change saw that I'd be waiting a loooong time, because there were so many customers ahead of me. No worries, because I had the writing notebook.
Even better, I had some index cards. I got more plotting done there waiting for the oil change than I'd managed in the last month. Sometimes you have to have the right tools at the right time.