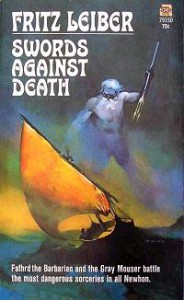 In the coming weeks Bill Ward and I  are going to re-read a book from Fritz Leiber's famous Lankhmar series, Swords Against Death. We hope you'll pick up a copy and join us. This week, so that you'll have a little time to get on board, we're just providing an overview.
Howard: Mid-way through junior high I'd read a whole lot of science fiction but very few fantasy books and no sword-and-sorcery. I'd been playing a whole lot of Dungeons & Dragons, though, and one day I read the famed Appendix N and decided to explore its recommended fantasy reading.
Unfortunately, when I went to the library it proved woefully empty of nearly everything on the list. The used bookstore ended up being my salvation, although, owing to chance, all they had that first day was one Fritz Leiber book, which meant I didn't actually read Robert E. Howard — sword-and-sorcery's originator — until I was well into my twenties.
Bill: This closely parallels my own experience, and it was D&D that introduced me to Fafhrd and the Gray Mouser long before I ever read any of their stories. Books were just hard to find, even if you knew what you were looking for. I didn't get to Conan until I was thirty, and Fafhrd and the Gray Mouser sometime after that! My luck was to find Elric in my late teens and early twenties, probably because they were all being reprinted and the old Daws also seemed easy to find at the only used bookstore I knew about at the time.