The Perfect Pocket Writing Notebook: Review 5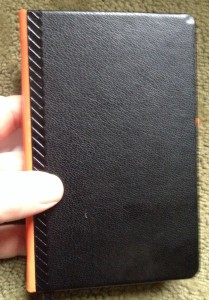 This week I'm reviewing the Palamino Luxury Small hardcover. If you're interested in seeing other notebook reviews, or my judging criteria, click here. Unless noted otherwise, all the notebooks I review are 3.5 by 5.5 — other details I expect include an elastic closure, a bookmark, and an inside back cover envelope (again, follow the link for details).
Pricing: $12.95 and up
The Palamino Luxury has such a unique look that you'll either love it or hate it. I personally think it's pretty snazzy. It's also got a neat feature concerning the elastic closure. Most other pocket notebooks that I've seen are engineered so that the elastic strap dangles once you open them, but the Palamino's lies flat in the back when you're not using it, as shown to the right.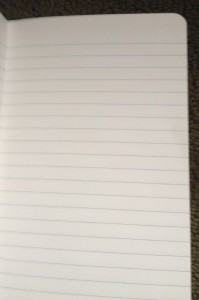 Certainly that feature with the closure isn't any kind of make or break deal, but it shows that more than a little thought went into the notebook's construction.
It's well bound and durable and lays flat. The interior pages have a little extra room up at the top, enough so that you can create page headers to help you organize if you like but not enough that there's much wasted space. It's just right for my needs.
The inside front cover and facing page have dedicated space for you to write your name and contact information.
It's a solid little hardback with very little flex, so you'll definitely notice if you forget it's in your back pocket when you take a seat.
I've made sure to point out brands where the closure leaves a permanent mark once it's used a few times so I should mention that the Palamino, like the hardback Leuchtturm1917, is so well constructed the elastic closure doesn't damage the cover.
With its striking design and excellent manufacture, it's another fine choice for the writer on the move. It can be found through many online venues.