The Perfect Pocket Writing Notebook: Review 1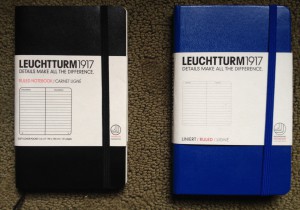 I've previously written about the reasons I find pocket notebooks useful, and my criteria for judging what makes one ideal.
With all that in mind, from time-to-time I'm going to feature some pocket notebooks that meet my criteria. I'm not going to bore you with notebooks that don't work, just get right to the ones that do.
First up, the Leuchtturm1917 hardback and softback models.
Pricing: Harback = $12 or more
Softback = $8 or more
Manufactured in Germany, the Leuchtturm1917 has been around since the early part of the last century. Both hardback and softback are available in a variety of colors, and through a number of vendors here in the United States.
At 3.5 by 6 inches the Leuchtturm1917 notebooks are a little taller than other pocket notebooks, but my field test doesn't show that to be any problem at all, unlike pocket notebooks wider than 3.5 inches. They have excellent binding. The hardbacks have more pages than the soft backs (185 vs. 121), but the softbacks  may well be the perfect size for back pocket transport, and are extremely flexible — in other words, even if you do accidentally sit on a softcover, it probably won't be hurt (whereas if you sit on one of the hardcovers, they're so firm you're definitely going to notice).
Both hardback and softback come with a variety of features, most unique to the Leuchtturm1917 brand. They have an opening page where you can write your contact information. They have dedicated table of contents pages, and all pages are numbered. Additionally, the final 8 pages of each Leuchtturm are tear out, although they're so finely perforated they're in no danger of falling out by accident. Those removable pages are great if you're wanting to keep your writing notebook just for writing, but occasionally need to jot a note for something else. Stickers are included to label your notebooks once you've filled them.
The top of every page leaves less room than I would prefer, and has dedicated space for the date, which is assuming a little too much (personally I rarely need to date what I'm writing in a notebook). It's the only feature I don't like about these excellent little products.
I suppose I should also mention that the hardback cover doesn't seem capable of being marked by the elastic closure, as is the case with many others on my list. It's solidly designed.