Back From GenCon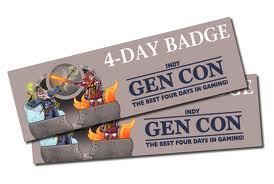 I returned from my whirlwind trip to GenCon late Saturday night. The four days of GenCon  aren't long enough to see and do everything, which means that the one day I was there didn't give me a chance to really do the convention justice at all.
Still, I met (or re-connected with) a whole slew of interesting people.
Before I get into any recounting, I want to pass on my pleased impression about the GenCon staffers. There was some mild confusion about where my badge was supposed to be. When I arrived at the GenCon hall twenty minutes before I was scheduled to appear on a panel and my badge couldn't be relocated, staff member Rik DesChain personally escorted me to the panel to make sure that I could get to where I needed to go, then marched off to sort out the matter with the missing badge.
It turns out that the Writers Symposium is the hidden gold at GenCon. I've been attending the convention for three years now, and I'd never heard of it. Yet the panels were well attended and packed with good friendly professionals ready with advice for all comers. I had a blast,and I think that the panels were informative and helpful. As the time draws close for GenCon registration next year I'll be doing my best to help promote the symposium, because it honestly seems to be a great track for writers interested in learning about the industry and bettering their skills.
Over the course of two panels I got to know writers Elizabeth Vaughan, John Helfers, and Jason Sizemore (who also wears the editor/publisher hat). After the panels I finally got a chance to speak with author Brad Beaulieu, with whom I've been hoping to talk for the last two or three conventions I've attended. He introduced me to writer Paul Genesse, and then Brad and I bumped into author Mike Stackpole, who spoke with us at length about good kickstarter tactics.
After that I spent much of the day at the Paizo booth. The Pathfinder crew are uniformly nice, as one always hopes to hear about talented, successful people. Amongst many excellent conversations were memorable ones with Paizo CEO Lisa Stevens, who shared some great anecdotes about her own gaming group, the affable Pierce Watters (who seems to know everyone, although he's so level-headed and low-key you'd never guess it), my Pathfinder Tales editor and friend James Sutter (his Death's Heretic was number 3 on the 2012 best fantasy list from B&N), and publisher Erik Mona, who shares my love for obscure pulps and authors. I spent the most time with my good friend, Pathfinder Tales author Dave Gross, signing books together and amusing each other with various stories of writerly mishaps and general geekery. At one point, while I was talking to a fan, he got me giggling with a witty aside from a third season original Star Trek episode. It is good to be among other Star Trek nerds sometimes.
Dave and I got to talk with some great folks, past and (hopefully) future readers. The Pathfinder Tales readers were a real joy to meet. It's immensely gratifying to see someone's eyes light up when they see that you're the one who wrote the book they enjoyed.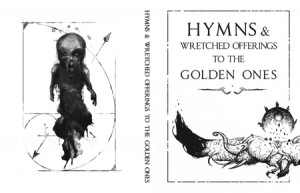 I wandered the floor in search of zocchi dice (for the DCC role-playing game) and some OSR game products I've grown increasingly curious about, but I couldn't find them, although I did bump into Patrick Rothfuss, out taking in the sites himself, and babbled at him for a while about gaming and the Arabian Nights. I also popped in to meet critically acclaimed writer of pirate fiction (and future Pathfinder Tales author) Chris Jackson, who was selling books over on author's row. I visited my artist friends Jim Pavalec and Chris Seaman (who had just won an impressive 2nd place in in one of the GenCon art competitions) and picked up a copy of Jim's latest book.
Dave and I grabbed dinner together, then I dropped by to talk with the talented Marc Tassin, Admiral of the GenCon Writer's Symposium, and met a few more writer folks from the panels… although at that point I was fading fast, so I'm not entirely sure I was coherent. Before an hour was up I  had to beg off to catch the last zeppelin flight home before it got too much later.
In short, GenCon is a good place to be, and an even better place to be for writers than I knew of. Next year I'll be staying for the duration rather than dropping in for a single day. I hope to see you there!