Great Western Reads Part 2
It's not just that I want a western. I want them with lean prose and a lot of action; with characters deep enough to care about, with believable motivations and sharp plots that read quickly. No bloat. No padding. No digressions. In other words, pretty hard-boiled. Believe it or not, those simple requirements are hard to meet.
Today I thought I'd share some writers that my site visitors may not have heard of and who I think are worth a serious look. I've read some others now who might be in the running, but have seen enough from those listed here to recommend more than just one book.
Regular site visitors have seen me mention the excellence of the Ben Haas westerns (usually he wrote as John Benteen, but not everyone writing as John Benteen was Ben Haas, so it's a little confusing). My earlier confusion doesn't have to be yours because now Picadilly Press has made them all those by Haas available as e-books, here.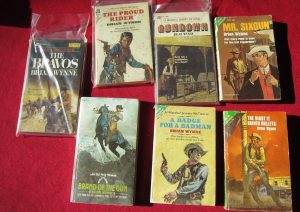 The other day I mentioned how much I was enjoying the Jeremy Six westerns. Turns out that there are eight of those, not six. This pic shows only seven, but I've got 'em all — the eighth is on the flip side of one of those Ace doubles. Right now they're only available used, but right now they're still pretty cheap to pick up used because only a few seem to realize how good they are.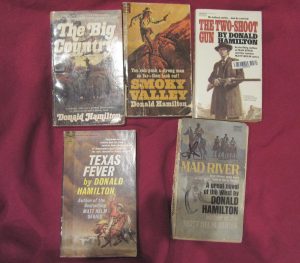 Donald Hamilton, famed creator of Matt Helm, wrote five westerns, and at least four of them are great. Thanks to the kindness of Paul Bishop I now have the rare fifth novel and am very much looking forward to reading it — it's cited as pretty excellent in the 52 Westerns book. The other four are fairly easy to come by. The Two Shoot Gun was also published as The Man from Santa Clara.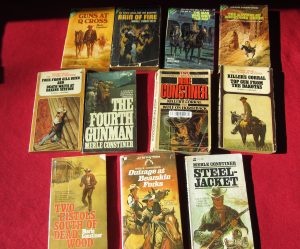 Merle Constiner ranges from good to great. No series characters for him, but like L'Amour and a number of others, he has certain types he likes to write about — typically men who walk softly and carry a big stick, who are clever and resourceful and don't really care what you think about them. His heroes are clever, resourceful, and thoughtful, and side characters can be quirky and entertaining. I recommend starting with The Fourth Gunman or Death Waits at Dawkins Station.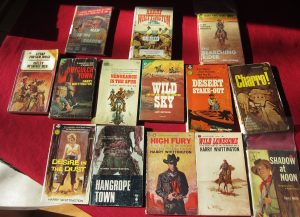 Dang but Harry Whittington can be good. I read several of his later novels which were good, but not great, and didn't know JUST how excellent he could really be. After reading three that blew me out of my boots I've actively sought him out. Try Desert Stake Out or Trouble Rides Tall, but don't look for it in beat up old paperback form unless you're a collector — you can find it much more easily along with two other strong ones in a new release from Stark House. Like Constiner, so far as I know he didn't create a series character.