Pictures in the Fire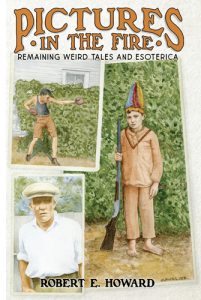 I just saw that the Robert E. Howard Foundation is about ready to release a new book that collects some uncollected  (at least in nice hardback editions) weird fiction and some other goodies by the man himself. It looks as though none of it is juvenalia, which is good, because while I realize stuff written when REH was a kid is great for scholars, I'm not interested in reading it myself.
There are also a substantial number of fragments. When it comes to Robert E. Howard, sometimes these fragments contain nifty little scenes or gem like moments. I recall one historical fragment that had an unbelievably cool fight in a corridor, so I'll probably end up reading them all, just as I listen to rarity tracks by favorite bands.
I'm putting it on my birthday list. Seeing as how I'm downsizing my consumption of NEW stuff, this book will probably be about the extent of my birthday list this year, although, as I'm going to be hitting the half century mark, maybe I'll treat myself to another of those wargames I enjoy so much…
Anyway, go to the page and check it out.