My New Book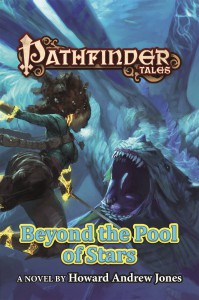 My new book, Beyond the Pool of Stars, is now available for pre-order at Amazon, although it won't be in stores until October. I've been in love with the cover art since I saw a sketch of it last summer, but I can't find mention of the artist's name — something I'll correct just as soon as I can this week.
Here's the current draft of the back cover copy, from Paizo:
Mirian Raas comes from a long line of salvagers, adventurers who use magic to dive for sunken ships off the coast of tropical Sargava. When her father dies, Mirian has to take over his last job: a dangerous expedition into deep jungle pools, helping a tribe of lizardfolk reclaim the lost treasures of their people. Yet this isn't any ordinary job, as the same colonial government that looks down on Mirian for her half-native heritage has an interest in the treasure, and the survival of the entire nation may depend on the outcome…
From critically acclaimed author Howard Andrew Jones comes a fantastical adventure of deep-water danger and unlikely alliances in Pathfinder Tales: Beyond the Pool of Stars, set in the award-winning world of the Pathfinder Roleplaying Game.
The second draft of its immediate sequel is already turned over to editorial, but still awaiting my hand to complete another pass based on editorial changes suggested to book 1. I regret to say that I was very happy with the changes I'd made through the first third of the sequel, only to find I'd somehow overwritten those changes in both my draft AND my backup draft. A rookie mistake. Given that it's my sixth book (well, seventh, as I wrote the first draft of the first book of my new Hearthstones series  before it)  you'd think I'd be through those kind of boneheaded errors, and you'd be wrong. Sigh.
Writing on current books is going quite well, although my current writing notebook has just about given up the ghost. I've decided to launch a search for a more durable pocket notebook, and I'll report my findings right here on the blog when I do. Paperblanks are lovely and well-made, as I've discussed in detail (also here), but they just don't hold up to spending so much time in my back pocket.