Mindjammer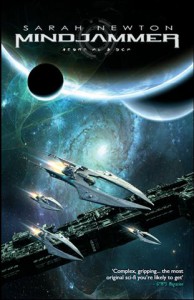 I wanted to give a shout out for the talented Sarah Newton, whose first novel, Mindjammer, has just been released. I stumbled on Sarah's work as an RPG writer when she helped bring the Starblazer Adventures RPG to life and was blown away by the scope of her ideas and the easy and exciting way she articulated them. Here's the official cover copy for her first novel:
—————————
IT IS THE SECOND AGE OF SPACE… In the seventeenth millennium, the New Commonality of Humankind is expanding, using newly-discovered faster-than-light travel to rediscover lost worlds colonised in the distant past. It's a time of turmoil, of clashing cultures, as civilisations shudder and collapse before the might of a benevolent empire ten millennia old.

In the Solenine Cluster, things are going from bad to worse, as hyper-advanced technologies destabilise a world in chaos. Thaddeus Clay and his SCI Force special ops team are on the trail of the Transmigration Heresy. What they find is something beyond even their imagining – something which could tear the whole Commonality apart…

———————————-
There's a lot of buzz about the book already. The Mighty John O'Neill over at Black Gate posted a longer discussion about it just the other day. All you need to know is that Mindjammer is available now in Kindle format for $3.99 and in print for $15.95, both from Amazon.