Behind-the-Scenes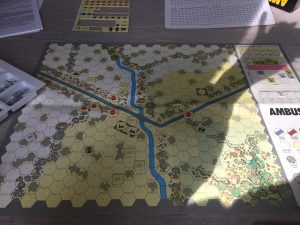 You wouldn't know it by looking at the site, but life's pretty busy here. Nearly every day I'm doing editorial work for Perilous Worlds. Several times a week I'm editing things for Tales From the Magician's Skull. And every day I'm working on either the promotion of book 1 of the Ring-Sworn trilogy, or working on the first draft of book 3. This morning it's that draft I'm contemplating. Wrapping all the threads up by the end of the book is proving a little challenging, and so I'm still tinkering with the outline.
I'm also managing some wargaming to relax, courtesy of the dedicated spot in our new remodeled basement. In the last couple of weeks I've played four scenarios of one of my favorite games, Ambush!. (While I do enjoy playing, that exclamation point is part of the game's title.)
I hope to share details about all of the publishing stuff as everything gets closer to release…
In the meantime, here's a snapshot at the end of a recent Ambush! scenario. And here's a link back to my thoughts after a first few plays, as well as a description of the game for the curious.