The Queen of Thorns
First today I wanted to point everyone to Queen of Thorns, the new book from the pen of the talented Dave Gross.
If you're already a Pathfinder Tales fan then Dave needs no introduction, because he is the real mainstay of the Paizo Pathfinder Tales novel line. That's because Dave isn't just a good writer who hits his deadlines, he also has a gift for bringing characters to life and providing atmospheric spark to every corner of the Pathfinder world (Golarion) where he shines his light.
Media tie-in fiction gets a bad rap from some people, but here and at Black Gate I've long said that some tie-in writers will defy your expectations. One of those is Dave Gross 
 .
The Queen of Thorns is the third novel length adventure of his characters Radovan and Jeggare, although, as with the others, it stands alone. Don't take my word on the quality of Dave's writing. Right now you can check out every one of the first four chapter. I'm going to rip the rest of this information right from Dave's site 
 :Over at Black Gate  
 you can read Chapter One, in which Count Varian Jeggare attends the Midsummer Masquerade in a city of mists and illusion.
Flames Rising 
  hosts Chapter Two, in which Radovan dances after an elven damsel only to find out that he wasn't the one calling the tune.
SF Signal 
  has Chapter Three, in which Varian enjoys a bird's-eye view of the Fierani Forest and meets an unusual gnome with a huge secret to reveal.
And Paizo  
 itself hosts Chapter Four, wherein the boys assemble a team to guide them through the deadly Fierani Forest. This chapter includes a fabulous illustration by Eric Belisle.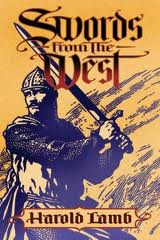 Apart from letting you know about my friend's book, there is both too little and too much to report. Here at the Jones household we're busily restructuring the home and our lives to bring my mother in to live with us, which means the end of my office as an office, as we know it. I've been accustoming myself to working in a comfy chair in the family room on my laptop.
My wife and I have been watching the BBC edition of Being Human, which I'll report on next week. And a good friend called the other day wondering why I never talk much about Harold Lamb. Considering I spent about five or six (or ten, if you can't the prep work) years getting the man's work into print through the University of Nebraska Press (Bison Books) it's a valid question. I love Lamb's work, and champion it in person whenever I get the chance. Yet I haven't talked much about him here. In the coming months I mean to rectify that. I saw that sword-and-sorcery scholar Morgan Holmes had listed one of the Lamb collections I edited (Swords from the West) as one of his desert island reads, which warmed the cockles of my cold, cold heart.