Trenches of Valor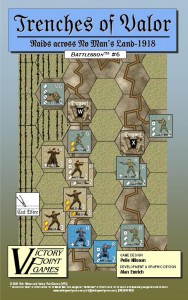 The other day I mentioned a great solitaire war game I'd tried out from Victory Point Games 
 , Empires in America. I ended up blogging about that over at Black Gate, so I thought I'd mention another fine Victory Point Games title, Trenches of Valor 
 , which I picked up with its expansion while my son was studying World War I.
One of the interesting things about the Victory Point Games titles is that they impart a great sense of history. They simulate historical events and then you honestly get a sense of what those events were like as they happened. Trenches of Valor isn't as realistic as some of the other titles in that sense, because it emphasizes cinematic bravery, but it does provide a snapshot of WWI trench warfare, and just how deadly it truly was.
But it's more a game of out thinking and out maneuvering your opponent than it is any kind of anti-war testament. In that light, it's fun, and it plays very quickly. In under a half hour, my son and I gamed out two different scenarios, one of which we played twice. It's perfect for a quick war game.
If you're in to playing grand strategy games where every counter represents a division or an entire cavalry unit, this game probably isn't for you, because each cardboard square represents only one guy. As with almost board games, a counter comes supplied with information about weapons range and damages and any special features that sort of unit/soldier has.
Interestingly, while teaching myself the rules, prior to playing with my son, I discovered that Trenches of Valor worked pretty well as a solitaire simulation, so long as you don't mind playing both sides against one another. I've learned that there's a great used game market where you can trade with other game players, or sell used games for discounts to try out newer ones. I've since traded a lot of games, but not Trenches of Valor. It's a keeper.