The Fourth Gunman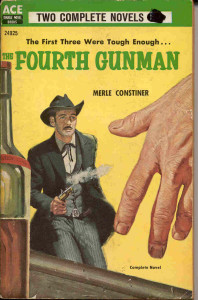 I never read a western in my life until some time in my mid '40s when I got pointed to the excellent adventure novels of Ben Haas writing as John Benteen (or, indeed, several other pseudonyms). He proved to be such an excellent author that I sought out nearly everything the man wrote, and I've since been on a hunt for other great westerns from others.
The problem is that there are thousands of westerns, and most of them seem to range only from okay to good, with the weight heavy on the okay end.
When you're looking into fantasy or historical fiction it's pretty easy to talk to some people in the know and get the lowdown on the recognized masters and the truly excellent. With westerns there's less consensus. The trail usually ends with Louis L'amour or some other famous names that don't really seem to be the most exciting. (L'amour is good, but in my experience he's not great, no matter his popularity.)
So through the fall of 2015 and into the winter I've been exploring, based on some recommendations by John C. Hocking and Morgan Holmes, and working my way through some Harry Whittington, Donald Hamilton (better known for his Matt Helm books) and Merle Constiner.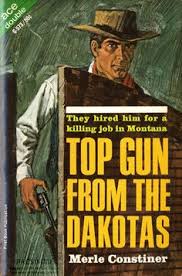 Whittington is good and capable but so far I've read only one that blew me out of the water. I'll probably try more… except that I've had MUCH better luck with Donald Hamilton. Hamilton had so much success with his Matt Helm line that he didn't write as many westerns, but he penned five, and I've read two of them and definitely rate them top notch.
And Constiner — wow. He's full of constant surprise, clever characters, action, mystery, and sparkling dialogue. So far my favorite has been The Fourth Gunman. When I write "constant surprise" this novel epitomizes it. The short opening chapter seems like it's off to a slow start, and its protagonist a fairly ordinary if intelligent business owner. And then it twists into a mystery, and you quickly realize that the protagonist is more than he seems. Those sudden changes were so delightful I really don't want to spoil it by going into detail aside from saying that there's action and adventure and tension and a hero that's great at thinking on his feet. If you are at all curious about westerns you should check it out, and if you like adventure stories, this might be a good entry point into reading westerns. Used copies (the only copies available) aren't too expensive.
I've been reading more Constiner since. He has a slightly quirky, if good natured, style that's quite distinct, so I don't read too many in a row. A lot of them are more novelette length, sometimes packaged with another author's work, or available in a two pack of Constiner. He's consistently good an often great.