The Siren Depths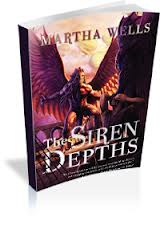 Martha Wells' new book has just been released nationwide. Lovers of fine spec fiction, get thee forth and find it!

All his life, Moon roamed the Three Worlds, a solitary wanderer forced to hide his true nature–until he was reunited with his own kind, the Raksura, and found a new life as consort to Jade, sister queen of the Indigo Cloud court.
But now a rival court has laid claim to Moon, and Jade may or may not be willing to fight for him. Beset by doubts, Moon must travel in the company of strangers to a distant realm where he will finally face the forgotten secrets of his past, even as an old enemy returns with a vengeance.
Available at:
Barnes and Noble, Chapters Indigo, Amazon US, Powell's, Mysterious Galaxy, The Tattered Cover, Books-a-Million, Book Depository.com (free shipping worldwide), Waterstones UK, Book Depository.uk, Whitcoulls NZ, Amazon UK, Amazon.ca, Amazon.fr, Amazon.de, Amazon Spain, or look for it at an independent book store in the US through IndieBound.
ebook: Baen Webscription eBook (DRM-Free), Barnes & Noble NookBook US, Amazon US Kindle, Kobo, Waterstones UK, Whitcoulls NZ, Kindle UK, Barnes & Noble NookBook UK, Kindle Germany, Kindle France, Kindle Spain, Kindle Italy.
Martha Wells is the author of fourteen fantasy novels, including The Cloud Roads, The Serpent Sea, The Wizard Hunters, The Ships of Air, The Gate of Gods, The Element of Fire, and the Nebula-nominated The Death of the Necromancer and Emilie and the Hollow World, to be published by Strange Chemistry Books in April 2013. She has had short stories in the magazines Black Gate, Realms of Fantasy, Lone Star Stories, and Stargate Magazine, and in the Tsunami Relief anthology Elemental. She has also written two media-tie-in novels, Stargate Atlantis: Reliquary and Stargate Atlantis: Entanglement.