The Power of Tregillis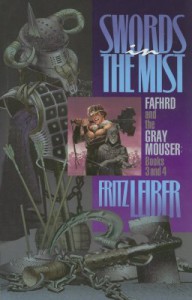 Bill Ward and I have been dependably bringing you re-reads on Friday now for over a year, with very few delays. I'm sorry to say that this week we've another. Bill was having some computer issues, and I was having some "this story's too long for me to finish quickly" issues, so we're delaying our final re-read for this book until next Friday. After that, we'll be reading the Del Rey volume The Coming of Conan, which, as you probably know, is a collection of witty and mannered short stories set during the British Regency. We hope that you'll join us for that one, which is surely among Jane Austen's very best.
Normally I'd have squeezed time in to read "Adept's Gambit" over the course of a week. It's not THAT long. I blame Ian Tregillis. You see, when I wasn't hunched over a final re-read of Beyond the Pool of Stars or re-writing my new draft of For the Killing of Kings (a title that will probably have to change, alas), I was reading two books by Ian. I'd fully meant to pace myself, thinking that I could read a few chapters of one Ian Tregillis book every night, the way I'd been doing with recent historicals. Turns out that no.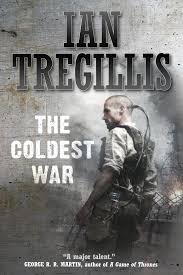 I devoured The Coldest War and then immediately downloaded an e-copy (for my Mac's Kindle emulator) of Necessary Evil and devoured it as well. I'd forgotten, you see, why I hadn't immediately started The Coldest War right after reading his first one, the excellent Bitter Seeds. Brilliant characterization, wonderful twists and surprises, compelling characters, vivid setting… all stuff of which great speculative fiction is made, including fantastic what-ifs. The problem is that once I start, I can't stop. Few modern writers have that effect on me.
I was introduced to Ian at ConFusion two years back because a group of writers and editors thought we resembled one another and wanted to get a snapshot of us standing together. It's pretty blurry, or I'd share it with you. I'm not sure how much real resemblance there is (I think we look more alike if it's late at night in a convention bar and you've been drinking ;)). Thrust together as we were, we struck up conversation and found a shared admiration for the works of Roger Zelazny, Raymond Chandler, Scott Lynch, and other writers besides.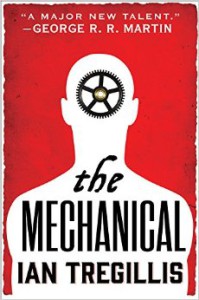 It's always a pleasure to make a new writer friend, especially when I later see just how good their writing is. I'd lost track of when his new novel was coming out, The Mechanical. It was released in March. Normally I try to pick up new books by my writer friends on release week, to help their initial sales numbers, so I'm a little late to The Mechanical. I'm looking forward to reading it… the next time I have a weekend to spare, because I'm pretty sure I'll be unable to stop reading until I reach the end.
The long and the short of all this is — no Leiber re-read today, and you should go read some Ian Tregillis.