Friday Update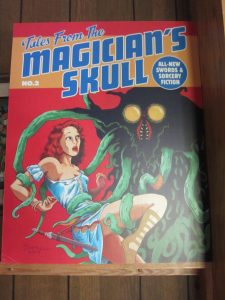 I've finished the prose part of my Windy City recap now and just have to transfer the photos in from various electronic devices. I've received the preliminary pass of Tales From the Magician's Skull issue 2 and am reviewing that, and I'm addressing some final changes in my novel. I'm also getting ready to paint the ceiling of our basement.
In other words, it's a busy week!
I wanted to point all my visitors over to some nifty things I think they'll find of interest…
As you probably know, as well as being one of my favorite people, John C. Hocking is one of my very favorite writers. And for the first time in, well, ever, three of his stories are in print in the same month. One can be found in Tales From the Magician's Skull issue 1. The others can be found in Skelos 3, and Weirdbook 38. These last two are new stories of The Archivist, whom you may remember from his Black Gate appearances. Get thee hence, because both are fabulous sword-and-sorcery. Hocking himself thinks the short story in Skelos 3 may be the very best he's ever written. At least so far. All I know is that I loved 'em both, and I think you will too.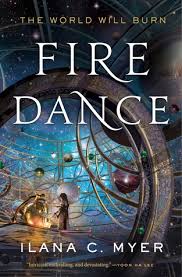 Yesterday Black Gate took an interview I held with the talented Ilana C. Myer live. You should go check it out, and then go read her books. She drafts cracking  good adventure fiction with beautiful prose. She described her first book as epic fantasy, which may be true, except that it's not infinitely padded, or padded at all. And the pacing if strong; there's lots of great intrigue and all the details about the bards and their magic work are impressive. It's one of the best modern fantasies I've read in years.
The sequel book has some of the same characters and is a continuation, but it's not a tightly connected trilogy where nothing was resolved in book 1.