Dabir and Asim are Audible!
I'm pleased — nay, super excited — to announce that the first two Dabir and Asim  novels, The Desert of Souls and The Bones of the Old Ones, are now available as audio books!
I hope you'll help spread the word. Both are narrated by the talented Peter Ganim, and you can find them here and here at Audible, or through the other familiar places that distribute Audible books. I've only listened to brief excerpts, and I really like how he's handled Captain Asim. Some day I'll probably listen to more… but, as an actor often hates to watch his or her performance, I'm not sure how well I can listen to my own words being read aloud. Perhaps if I had a bigger head.
In other news, spring has arrived at Jones central.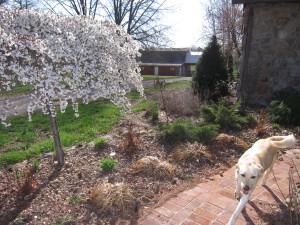 We have a little flowering tree in our front yard that is beautiful for perhaps a week, and I snapped a picture this morning with our lab mix Ella running through. Our horse barn is in the distance.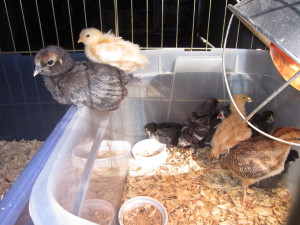 We picked up a few new baby chicks to replace some poor egg-laying chickens that predators snapped up over the winter. Here are the chicks in the plastic storage bins that currently serve as their homes, with a heat lamp nearby. They have to be kept separate from the regular chickens until they're large enough to defend themselves. Note that the larger chicks have taken to perching on the rim between the two storage tubs. Baby chicks are really cute, but have to be tended constantly, at least with our  setup. They keep muddying up their water and food because they stand in it. Once you get chickens to adult size, though, you don't have to do much but set out food and water and collect the eggs. Oh, and deploy dogs who don't eat chickens (like Ella) to patrol the yard.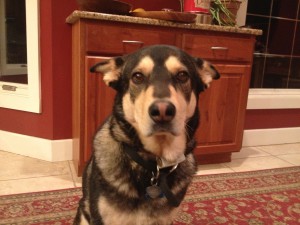 One of our dogs completely understands that she's supposed to protect everything on the property, including chickens. The other dog, who's really smart, just has too high a prey drive so we can't let her anywhere near the chickens. Here she is looking innocent. This is Keena. We think she's a husky/shepherd mix, but because she's a shelter dog, like Ella, we're not sure. She's one of the most communicative dogs I've ever owned. She's loving and affectionate, but apparently loves the taste of chickens, or perhaps just the chase itself.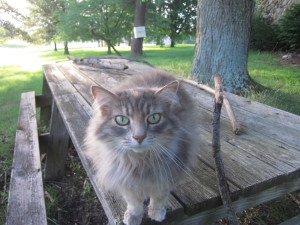 Of course, with a barn, we naturally have some barn cats. One was given to us by my mother when we were talking her out of owning so many. The other is a stray who adopted our barn. She was clearly someone else's cat at one time, for she's been spayed. She must have decided she liked it better here, because she's never really left, and now both dogs know she belongs on the property. The kids took to calling her Cheryl, to which she now responds. She's one of the sweetest tempered cats I've ever met, but she's also clearly never been a house cat, judging by how she jumps on dining room tables and the like on the rare instances she sneaks indoors.