Manly Movie Week, Part 2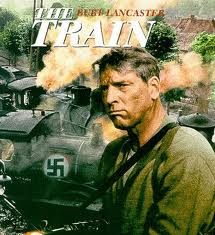 Last week, while my wife and daughter were out of town for seven days, my son and I sat down with a pile of movies I was pretty sure my wife would never be interested in. I already reported on the greatest number of them. After the weekend, our viewing slowed down quite a lot due to my son's homework load. We just didn't have time to watch all of those on my list, let alone all of those I managed to find at the library or via Netflix or Amazon Prime.
By the end of Friday night we'd managed five more, and some of them were very impressive.
The Dirty Dozen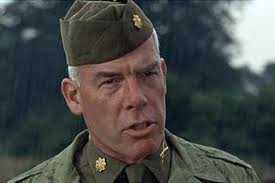 I barely remembered most of this one, which, given its fame, kind of surprised me. There are a lot of great action sequences and a VERY high mortality rate among the dozen. I could have sworn a few more characters survived. My son was a little disappointed that his two favorite characters didn't make it, and both of us felt like the end was a little abrupt, even when taking into account the movie was from an older time. Lee Marvin was still awesome, though.
To Hell And Back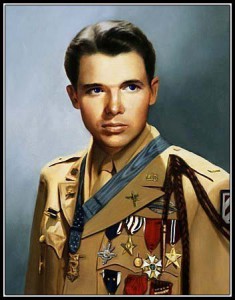 Speaking of older movies with a different feel… we had a hard time with all the stagey moments in this one, although the bits where Audie Murphy was doing the impossible were still pretty thrilling. My son didn't enjoy this one very much, although he now has an inkling of just how amazing Audie Murphy's exploits truly were. John Hocking tells me that Murphy's heroics were so unbelievable that Hollywood actually had to tone some of them down for the movie because they were afraid no one would believe them. For instance, the bit where Audie Murphy is holding off an entire squad of Germans after he sends the rest of his men out, then climbs in a burning tank destroyer to keep them out. In REAL life, not only did he do that, he did it while being shot, and, when things got really dicey, he called in an air strike ON HIS OWN POSITION. When asked later why he went to such extraordinary lengths, he simply answered, "they were killing my friends." If you don't know Audie Murphy's story, you should really look it up.
Hell is For Heroes
This one was new to me, and my son and I both enjoyed it. Short and bleak, with a real noir feel, it took a while to get to its action, but once it began the moments were riveting because of the time the movie had put in introducing its characters. The gist: a platoon has to fool a German division into thinking that they have a LOT more men on their side of the line, or they're going to get mowed down.
Seven Men From Now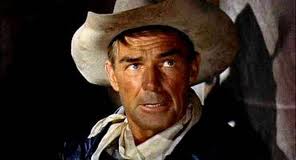 This was new to me as well, a western from the famed collaborations between Bud Boetticher and Randolph Scott. I say famed, but I'd never heard of them, and apparently even among western fans they have only a cult following. Unfortunately, I had to watch this one solo because my son had too much homework. It ended up being one of my favorites from the entire week of viewing, and one of the best westerns I've ever seen. A tight script, a small cast, each with complex motivations and back stories, with spare and beautiful direction and wonderful pacing. Randolph Scott plays a man determined to hunt down the seven men who killed a woman in a robbery and got away with a chest of money. To say much more would be to spoil the unfolding surprises. Two thumbs way up on this one. I liked it so well I may actually track down a copy to keep. I almost never do that anymore.
Morituri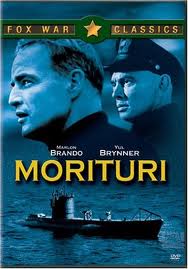 Wow, was this good. Marlon Brando plays a German demolition expert hiding (from his own government) in India, forced by the British to infiltrate a German freighter in the guise of an SS officer and arrange for the shipping to be safely transported to Allied hands. Opposing him is Yul Brynner, the freighter captain, and any number of other factors. Taut, tense, with rising tension, constant surprises, and terrible sacrifices, this one was a gem. Another I might want to add to my permanent collection.
The Train
A French resistance movie about a German attempt to move a trainload of valuable paintings from France as the Nazis evacuate Paris. Another great movie, though some might feel the opening segments a little slow. While the overall story is imaginary, many of the events depicted were actually performed by the French resistance as they strove to disrupt the German occupation. Anyone who watches this movie would be hard pressed to mock the French for their alleged lack of warrior skills.
In Conclusion
Out of all the movies we saw, my son thought Schindler's List and Morituri were the very best, and he liked Morituri so well he thought it might even be as good as Schindler's List. He thought The Train was just a fraction below, right on the level with Bridge on the River Kwai.
I felt that Schindler's List, Morituri, and Seven Men from Now were the very strongest. The Train was my next favorite, followed by The Outlaw Josey Wales. Of the rest, I most enjoyed Kelly's Heroes. My old friend Bruce dropped by for the final two movies, Morituri and The Train, and thought quite highly of them both as well, although he gave Morituri a slight edge.
Now I don't look forward to having half of my family gone for a week any time soon, but I really enjoyed watching these movies with my son, and talking about WWII and heroism in general. I'm hoping we can start a tradition of watching some others from time to time, hopefully with my daughter joining in. Next up — Zulu!